Salvador Mateos
Fate/stay night Unlimited Blade Works LA Screening Impressions
On Sunday, I was one of the few lucky people in Los Angeles to attend the premier screening of Aniplex's Fate/stay night Unlimited Blade Works, which was sold out. The location was the Downtown Independent Theater, next to Little Tokyo, and doors did not open until 12:15 PM. Since I had to drive and didn't want to risk getting stuck in LA traffic I left early, but to my surprise there was a long line of fans already in line once I had arrived. At first I wasn't sure if I was at the right place, but once I got closer I heard someone playing music from the Fate/stay series and saw a Rin cosplayer. I signed in and got in line and waited for the doors to open. Once they opened, we were allowed inside the lobby, which had posters of the Fate/stay night Unlimited Blade Works series and people were taking pictures with them along with the cosplayers who attended the event. Aniplex gave every attendee an exclusive "Unlimited Blade Works Memorial Record" lithograph which has Saber, Shirou, Rin, Archer and Kotomine on it along with the locations of the screenings and date at the bottom to commemorate the event.
Once we were seated, we waited until around 1:00pm for people to find their seats and purchase concessions. Joanna took the front stage and welcomed us to the screening and informed us that we were going to be amongst the first group of people to see the episode, in which fans reacted in loud cheers. She also asked everyone to raise the giveaways they received so that she would be able to take a picture which was posted on their website. Also since we were the first to see this episode, there was a special video message from the Fate/stay night Unlimited creative group in Japan. I won't go into details, but it was a short Q&A about how they felt working on the series to which they said that they were nervous since the Fate/stay series is huge and now they are faced with the task to come up with something bigger. One particular tidbit that stood out to me during the video was that they hinted at the possibility of a return appearance to Los Angeles sometime next year.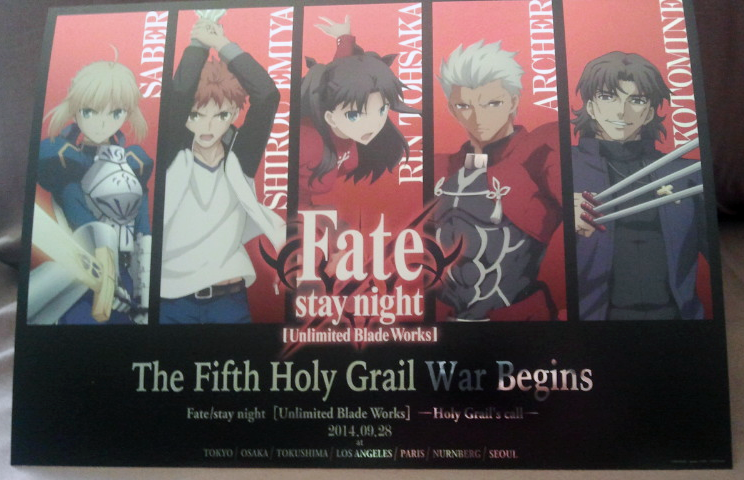 At the conclusion of the short message it was time for the premiere Prologue episode: 00, which ran for around forty minutes. While I won't list any spoilers, I was afraid that the new series would be just a basic retelling and Director's cut of the original Fate/stay night with elements from the Unlimited Blade Works movie mixed in. Thankfully, it wasn't. However, I will say is that it will be from Rin's perspective and that the timeline will take place during the 5th Holy Grail War. I know what you're saying "duh we got that from the title and poster," okay fair enough, but just remember that we are going to be seeing an expanded story that was in the series/movie and that means twists, surprises and awesome fight scenes that is based on the Unlimited Blade Works timeline; one of the three alternate storylines from Nasu's original visual novel. As such we get to see the relationship between Rin and Archer develop, along with a sort of behind the scenes stuff that we didn't see in the original Fate/stay night series nor the Unlimited Blade Works film. However, like Levar Burton says "Don't take it from me" wait until 10/4/14 (Saturday) and watch the streaming premiere on Crunchyroll and Hulu! then you will see what I mean.