Jason Young & J.M. Alcala
Ramen Summit @ JPOP Summit 2017 Impressions
From high-energy musical acts and guests such as Bandmaid to tasty booths such as the Sake Fest and assorted Japanese food trucks, there's a little bit of something for everyone under the sun; and believe me when I say that the sun really was out in full force during the event. Despite that however, many a fans were thrilled to satiate their palette with a selection of some of the Bay Area's finest ramen shops at the Ramen Fest, with each of the five restaurants bringing their best specialty bowls to the shores of Fort Mason.
Although we did not get a chance to try out the Spicy Miso Ramen from Yoroshiku, the only non-California based shop, we were more than eager to indulge in the rest of the selections available on-hand.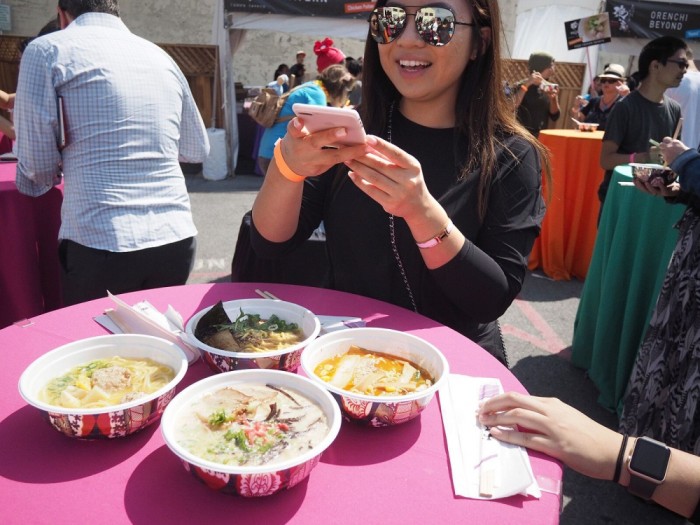 Marufuku Ramen: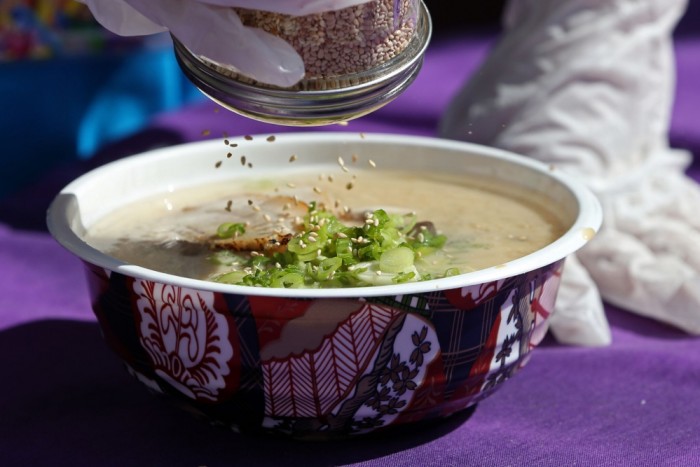 Jason: Starting with Hakata Tonkatsu Ramen from Marufuku Ramen in San Francisco's Japan Town, their handmade Hakata-style ramen was first on our plate. Immediately, we were presented with a succulent tonkatsu (pork bone) based soup that managed to avoid the overly salty taste that a lot of other ramen shops tend to run into. With a carefully attended to broth, their special ultra-thin noodles reminded me quite a bit of the thin noodles that pho restaurants tend to use with their broths. The thinnest of the four restaurants we tried, this personally came in as my personally least favorite but that's not to disparage the taste! I personally just prefer something that is original, even when it's as well done as the folks from Marufuku Ramen. Also, I will admit that I may be biased as I've visited Marufuku in the past!
J.M.: Having had Marufuku Ramen in the past and then comparing it to the others, it was just as succulent and "porky" as you would expect their tonkatsu base to be but for myself, the mouth-feel was a bit much. While extremely rich in flavor, it was also rich in its unctuousness, which can be off-putting if you're not really into fatty or greasy food. The broth goes down smoothly thanks to it, but combined with the rather thin noodles, it was an odd feeling. That said, they are a great restaurant to hit up if you're ever craving ramen while visiting Japan Town.
Hinodeya Ramen: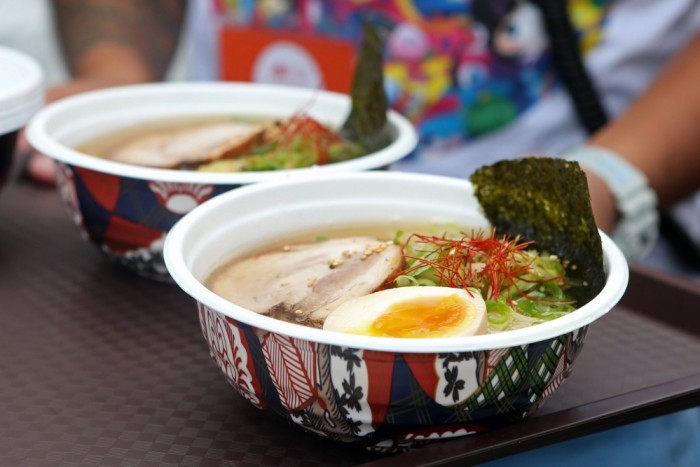 Jason: Of the three tonkatsu-based ramen bowls we tried, Hinodeya's tonkatsu ramen was definitely the most interesting due to the company's signature use of whole wheat noodles which produced a rather refined taste compared to the others giving it a very earth feel. As one of the top ramen restaurants from Northern Tokyo, you could tell that they've been practicing for a very long time trying to perfect their noodles. Bonus points for the hard boiled egg, which is always a personal favorite when it comes to ramen.
J.M.: With Hinodeya Ramen, I loved how earthy their ramen was. Of the four we tried, Hinodeya didn't shy away from giving us lots of vegetables but it was their whole wheat noodles that made it stand out. The nuttiness of the whole wheat noodles played well with the earthy mung bean sprouts and enoki mushrooms. The broth itself was a nice and while not as unctuous as Marufuku, its lightness still paired well with the various toppings. Finally, yes, I'm a firm believer in having an egg top all of my ramen so having an egg was pretty much the cherry on top.
Orenchi Beyond:
Jason: As a lover of all-things garlic, along with all of the bonus side effects it causes, Orenchi Beyond was easily my favorite. Located in San Francisco's Mission District, their combination thick noodles, creamy tonkatsu sauce and garlic soy sauce was everything I expect when I eat my favorite ramen. With a broth where you can taste the garlic without having it become overbearing, I definitely plan to start visiting one of their four Bay Area locations sometime soon.
J.M.: Orenchi Beyond featured my second-favorite ramen of the day, due to the use of their thick noodles and garlic soy sauce. While our sample didn't feature too much broth, it did well to highlight both the noodles and the soy sauce funny enough. I actually enjoy having chewy ramen noodles, so Orenchi's noodles hit the spot for me while the garlic soy sauce combined with the tonkatsu broth was the perfect accompaniment. Overally, I enjoyed Orenchi Beyond's ramen and the lightness of it was just what I needed after eating the other delicious bowls of ramen previously.
Nojo Ramen Tavern:
Jason: As the only non-pork based soup of the bunch, I appreciated their sincere efforts to bring the taste of chicken from Japan to San Francisco. Although the argument can be made that it's not that different from your mom's typical chicken noodle soup, the fact that it's able to replicate that taste with ramen is actually a quite refreshing experience. I really enjoyed their succulent chicken meatballs which made it different from any previous ramen experience I've had.
J.M.: Personally, Nojo Ramen was my favorite of all the four ramen dishes that we had sampled. Due to the use of chicken meatballs (which was unexpected) and yuzu, Nojo's broth was a delightful lemony-flavored chicken broth that reminded you of a great chicken noodle soup. Chicken meatballs were delicious and moist while their noodles had just the right amount of chew to them. Maybe I'm just a sucker for both lemon chicken and a good chicken noodle soup, but for me, Nojo Ramen's dish was absolute comfort food.