May'n Rhythm Tank!! BD Review
The indoor arena, Nippon Budokan, is one of the most famous venues at which a musician can perform in Japan, and pop singer May'n has performed there solo -- twice. Her second concert was held on March 6, 2011 with a home release on Blu-ray titled May'n Special Concert BD RHYTHM TANK!! at Nippon Budokan on November 2nd the same year.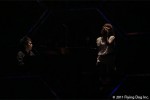 The concert began with a piano arrangement by "Kimi Shinitamou Koto Nakare," used as the opening theme song for the anime series Shangri-La. A sole grand piano on a vast stage with dim lights provided a classical atmosphere. Clad in white, May'n's sporting a new shoulder length hair cut and looks absolutely elegant. Three minutes later, the stage exploded with lights and music blasting as the song switched to its normal upbeat tempo and the crowd goes absolutely wild.
May'n's energy is absolutely mesmerizing. Throughout the concert, it's clear she's having fun by the genuine smile on her face. Although she has a powerful voice, she isn't afraid to show her girlish side by giggling and bantering during her interactions with the audience. While some artists rely on pitch correction software for their music, which often leads to awkward sounding live performances, what you hear on May'n's CDs is what you will hear on stage; almost every song throughout the concert sounds right on cue with the CD.
Since May'n made her major debut as the musical voice for super star Sheryl Nome from the hit anime series Macross Frontier, no concert would be complete without music from the show such as "Diamond Crevasse," "Don't be Late," "Infinity," "Lion," and "Northern Cross." May'n comes pretty close to emulating her Sheryl counterpart. Credit must be given to her technical crew for helping with the Macross Frontier influence. The stage is complete with an awesome assortment of dynamic hexagonal LED visualizer panels in the background that produce some neat effects that look like something straight out of a Sheryl Nome concert.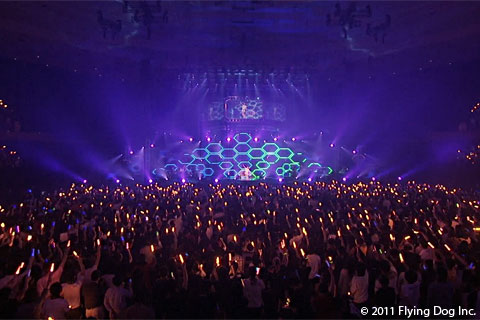 Although "Diamond Creavasse" is one of May'n's iconic fan favorite soft song, her ending performance of "Moshimo kimi ga negau no nara" from the Playstation Portable game, Valkyria Chronicles 3, really moved me. Featuring a string ensemble and faux snow sprinkling down on stage, this was truly one of the concert's defining moments and an excellent way to end the show. Anime enthusiasts will be thrilled to know she performed some of her other popular songs including "Ready Go!" from Ookami-san to Shichinin no Nakamatachi, and "Yuzurenai Omoi" from Sengoku Basara.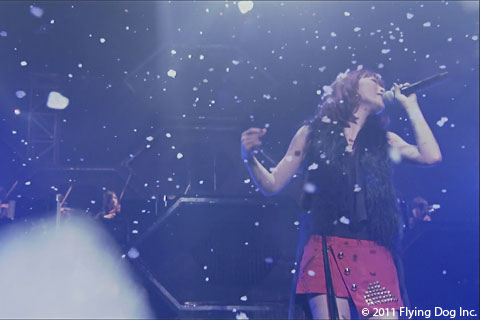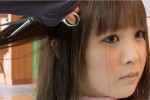 As part of the extras on the Blu-ray disc, it includes a thirty minute behind the scenes feature documentary that leads up to the concert. May'n talks about her thoughts throughout the planning stages, practices, and rehearsals. There's even a scene that details her new hair cut at the salon. This is a glimpse at the more personal side of the artist and is definitely is a "must watch" for fans.
The only major disappointment I had with the Blu-ray concert was not being there in person, though watching it on a high definition television with a full surround sound system certainly does help to improve the experience. Her energy simply transcends through the screen; if you've never seen a live performance by May'n, this is probably closest you will get to the real thing.
Images © 2011 Flying Dog Inc.
Last modified on Sunday, 08 November 2015 16:33