Toshio Furukawa (古川 登志夫) Interview @ SacAnime 2013
Featuring a number of well-known Guests of Honor, including veteran Japanese voice actor Toshio Furukawa, SacAnime's Winter 2013 convention was a fantastic way to start off the New Year. Famous for his powerful male roles, including Ace from One Piece, Piccolo from Dragon Ball Z and Roy Campbell from Metal Gear Solid: Portable Ops, Furukawa was gracious enough to find some time to sit down with us in a last minute interview and answer a few questions regarding his career as a voice actor and along with his role as a teacher in voicing acting.
T-ONO: First off, we would like to wish you a Happy New Year.
あけましておめでとうございます。
Furukawa: Happy New Year!
T-ONO: Do you have anything special goals or plans for the upcoming year?
今年のご予定などどのような事があるのでしょうか?
Furukawa: This year, there seems to be a lot of job opportunities for voice actors for anime and dubbing over motion pictures. I'll also be hosting a radio show.
いつもアニメーションであるとか、海外ドラマ吹き替え、ラジオDJをやったりとかボイスアクターとしてのお仕事をやっていこうと思ってます。
T-ONO: Can you tell us a little bit more about the radio show?
ラジオショーについてもうすこし詳しくお聞きしてよろしでしょうか?
Furukawa: It's a Tokyo FM radio show called "Furukawa Toshio's Kuru Kuru Dream" dealing with dreams of the listeners. They would send postcards about their future dreams and what they want to do. I provide them with advice about what they should do to help make that dream come true.
東京のFMでやってる番組で「古川 登志夫のくるくるドリーム」というタイトルがあるんですね。タイトルがドリームなんで夢なんで、夢を語るというような番組でリスナーの皆さんの夢を伺って、それをかなえるためにどうするかをレクチャーをするような番組ですね。
T-ONO: Do you have any special moments with your listeners that you could share with us?
そのラジオショーでリスナーさんとの思い出や印象に残っている出来事はありますか?
Furukawa: As I said before, they would send what they really want to do in the future and what they should with themselves. A usual topic would be their obstacles and how they can overcome them. We would talk about how we can solve that problem. There's a lot of people who usually ask how they can become a voice actor. There have been a number of people who I've had an opportunity to talk to that have become professional.
自分が将来なりたい夢とかやっぱり相談してくるんですよね、しかしそれを阻む壁というのが皆出てくるので、その壁を突破してその夢をかなえるためにこんな事したほうがいいんじゃないかというレクチャーをして、そのレクチャーを受けて、そのような方向に進んで行って、たとえば声優になりたいという相談が多いですね。そして実際に声優になった事ある人もいるので、そういう相談が多いですね。
T-ONO: Are there any examples of people that have gone on to become notable?
実際にラジオショーで応募してきた中で声優になった人がいると行っていましたが、有名な方とかいますか?
Furukawa: Aside from the radio show, I've also teach at my production's training facility as a guest professor. The radio show hasn't been airing for that long, so I don't think there are famous voice actors that were inspired from my radio show yet, however I hear that lot of them actually got into training facilities and production from my radio show. So probably in the future there would be famous voice actors who maybe were influenced by my radio show.
In addition, there is a new voice acting course at Osaka Art University, and I also done lectures in those classes too. So through radio shows, the training facility, and through lecturing I have shown the path to many young voice actors onto how to become a voice actor. .
While I can't name any of the people who have gone through the school, many of the voice actors who have become famous and are in their 30s or 40s, in addition to 60% of the people who come from Aoni Production, has been a student of mine at one point at the training facility and have been given advice from me and my co-workers.
I've been teaching for over thirty years, so most of the famous voice actors at the moment have actually gone on to listen to my lectures.
そのラジオショーやる前から、プロダクションの養成所の教師もやっておりまして、それをゲスト講師という形で選任の講師ではないんですけど、そういう人たちにはかなり有名な人たちがいてラジオを聴いて養成所に入るというような方はまだラジオの放送している期間がそれほど長くないのでこれからでしょうね。でも養成所に入ったりとかプロダクションに入ったりしたという方は出てきていますね。
大学で大阪芸術大学というのがありまして、そこの大学で声優コースという新設のコースがありまして、そこで一応声優コースの講師という事になっておりまして、そういう所からも若い人たちの相談を受けてこのプロダクションにあなたは入ったほうがいいんじゃないんでしょうかというようにコースを支持してあげるというのもやっていて、そっちの方と養成所とラジオと三つのコースでレクチャーをするというのが本来の仕事以外でもやっている事ですかね。
かなり有名な人具体的に言うと、青二プロダクションの養成所で講師をやるわけなのですが、その内の青二プロダクションの全体の所属人数の6割ぐらいはそこの学校出た人たちでその人たちも僕たち教えた事あるので、皆様が良く知っているボイスアクター30代、40代ぐらいの人たちは僕たちが実際に教えた人たちが沢山いますね。
30年ぐらいずっと自分の仕事以外に教える仕事をやってきたので、プロダクションの後輩たちはほとんどが自分たちの授業を聞いた人たちですね。
T-ONO: How have you seen the anime industry change since you started teaching over the past thirty years?
声優業界で長い間お仕事しているの中で声優業界はどのように変わったと思いますか?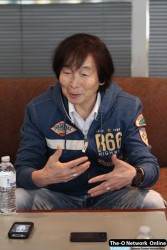 Furukawa: Here are three examples:
1) Back when I started, there weren't any events like SacAnime outside of Japan to be invited to. Nowadays, I've been travelling outside of Japan several times per year to attend these events.
2) The recording system has also become faster as well ever since the switch from analog to digital. Something that used to take a while to record now only takes a few moments and is a much shorter process.
3) There are many institutions now that are available for training voice actors now. Back then, there weren't as many schools that were so specific to voice acting.
Before, it used to be that becoming a stage actor was the easiest way of getting into the industry. They would start off as a normal actor before moving onto voices. Now, they can just start off as voice actors.
具体的な例で言えば、このようなアニメーションのイベント、今回私たちがSACANIMEに来ておりますけども、こういうイベントに呼ばれるというのは僕たちが若い頃にはなかった事なんですね。だから、ここ何十年の間に僕たちが年に何回も海外に呼ばれるような状態になっているという事は声優業界にはなかった事ですね。
そういう事とか収録のシステムとか非常に進化してアナログからデジタルに変わったように、大きく変わったので短時間で収録できる事になりましたね。
それから専門の養成所が沢山できてきた事、僕たちの頃はボイスアクター用のスクールがなかったのですけど、そこらへんが僕らの若い頃とは違う三つぐらいの例ですかね。
普通はお芝居をやっている、モダンプレイとかをやっているその劇団をしているステージアクター達がボイスアクターでもあったのですが、今はボイスアクターのための学校を出てボイスアクターになっていくという風に変わりましたね。
T-ONO: Has the way you approached roles changed since you first started voice acting?
声優として始めた当初から今になって、声優古川さんはどのように変わっていきましたか?
Furukawa: Although the basics haven't necessarily changed, now I'm starting to think about how my role would be received to one hundred different people who watch my anime and the mass opinions. I would then add in my own feelings and personality into the role to produce the direction I want to go to go with their thoughts.
基本的には変わっていませんけども、途中からたとえば100人の人たちが100人がこう考えるであろうというプランに+αして独自のものを出そうという風に工夫し始めた所があると思います、そこらへんがちょっと変わってきましたね。自分だけの独自の個性を出そうというスタンスですね。
T-ONO: So out of your entire extensive career, which character would you say you identify with the most?
ではその声優歴の中で一番共感を持てるキャラクターは誰ですか?
Furukawa: It would have to be Asuma Shinohara from Patlabor. For that role, it really felt like I could just be myself rather than act as someone else. While I was recording that role, the anime director Mamoru Oshii had specifically asked me to act naturally as if I was in a motion picture instead of just a character. It almost felt as though I should have named the character Furukawa Asuma or Toshio Shinohara.
アニメーションでは「起動警察パトレイバー」というアニメーションがありまして、それでやりました篠原遊馬はほとんど自分のままやっていますね。それはどうしてかというと、監督の惜しい守るがアニメーションのような口調をやめて、自然に自分のままに演じてくださいと、アニメーションは強調されてますけど、そういうのをやめて生の人間がしゃべってる、つまり普通のムービーのようにアニメというのはこう誇張してるでしょ?そうしないでやりましょうというレクチャーをされたので自分のままでやりました。
ですからキャラクターの名前は篠原遊馬ですけど、自分としては古川遊馬とかあるいは篠原登志夫というキャラクターのつもりでやってました。
T-ONO: Do you have any advice or opinions that you could give to any aspiring American voice actors who would like to become professional?
主に日本でご活動してる古川さんにアメリカで声優になりたいと思っている人たちにアドバイスとかございましたら何でしょうか?
Furukawa: The first thing would always be to consider the mass opinion in addition to how you personally feel about conveying a role. When acting out any roles for villains, it's important to consider making them feel vulnerable and sensitive. For heroic characters, try adding a little bit of darkness can really help bring out that character and bring them to life.
さきほど、+α、自分だけの演技と言いましたけど、それが一つと、もう一つは一つのキャラクターを作るときに例えば両極端を考えて演技プランをするという事なんですけど、例えば悪い人、悪役の演技をする時なんですけど、その悪役の人の善良な部分あるいは面白いキャラクター、コメディなキャラクターがいるとするとその人のシリアスの部分を探って、その心腹を演じるという風に心がけると、キャラクターの魅力が出てくるような気がします。
T-ONO: And finally, any message to your fans at SacAnime and in America?
Interview conducted by Jason Young, Theodore Mak and Osman Numair. Translations by Arthur Arends.