Jason Young
Mai Aizawa (相沢舞) Interview @ SacAnime 2013
SacAnime's Winter 2013 convention marked the beginning of a new era for the organization as they transitioned into the Sacramento Convention Center. Not only did they expand their convention however, but this time they featured a star-studded lineup, including Japanese voice actress Mai Aizawa. Known for her roles as Minene Uryuu in Mirai Nikki and Natsumi Murakami from Mahou Sensei Negima!, we had an opportunity to sit down with Mai and ask her a few questions about her career and future projects.
T-ONO: First, we just wanted to say welcome back to America and Happy New Year!
まず始めにアメリカにお帰りなさい、そしてあけましておめでとうございます!
Aizawa: Happy New Year!
明けましておめでとう
T-ONO: Do you have any special goals or plans for 2013?
2013年、今年の抱負を教えてください。
Aizawa: During 2012, I've been helped by a lot of other people so I hope that I can pay them back during the course of the year.
そうですね、すごい2012年に沢山の人にお世話になったので、すこしでも返していけたらいいなと思っております。
T-ONO: We recently saw the special message that you left on the SacAnime website for your fans and just wanted to say that you speak English very well.
SacAnime用のファンへのビデオを見たのですが、とても英語がお上手ですね。
Aizawa: I'm glad. *laughs* I was reading it.
読んでた(笑)sorry!
T-ONO: Do you have any other special talents that you would like to share with our readers?
他にも僕たちが知らない隠された才能とかありましたら教えていただけませんか?
Aizawa: I'm good at making chocolate. I actually measure the temperature and make a really good chocolate.
チョコレートが作るのがうまいですね。温度しっかり測って。
T-ONO: Sounds delicious.
おいしそうですね。
Aizawa: Thanks! It is! *laughs*
おいしいですよ!(笑)
T-ONO: You have done lots of characters with different personalities: quiet girls to high tension high schoolers to cool ladies. How do you feel about voice acting characters with very different personalities?
物静かな女の子を演じたり、とてもハイテンションな女の子を演じたり、時にはクールな女の子を演じたりしてきた中でこのように全然違う性格のキャラクターを演じるという事について感想を教えてください。
Aizawa: Out of all the characters that I've performed, the hardest are usually the quiet and introverted characters.
そうですね、すごく物静かで家にこもるキャラクターのほ方がむずかしいですね。
T-ONO: What do you do to create the voice for a particular character?
役を演じる前にその役に入りきるためにやる事とかありますか?
Aizawa: First, I read the original source, like a manga if it's from a manga, and then ask the director what kind of character I should go with because when I try to make a character on my own, it usually goes a different direction from what the director envisioned. So I just read the book and then ask the director about it.
まず、原作を読む事、後、監督の意見を聞くことですかね。あまり自分で作りこみすぎていくと現場行くときに監督のイメージと会わないというのが結構多くて、自分なりの『こうだ』というのを思いこまないようにする事ですかね。
T-ONO: Out of all the characters you've voiced, which one would you say is closest to your personality?
演じたキャラクターの中で一番自分に合っているなというキャラクターは誰ですか?
Aizawa: The character that would be closest to me personality-wise would have to be my debut character, Natsumi Murakami, from Mahou Sensei Negima!. Although she's similar to me, she's actually really hard to act out her personality.
性格が似ているのはデビュー作の魔法先生ネギマというアニメの村上夏美というキャラクターが似ていますね。似ていると演じにくいですね。
T-ONO: What traits do you think you two share?
夏美との共通点はなんですか?
Aizawa: Since Natsumi doesn't have any confidence in herself and was in the drama club, I felt a lot of similarities. Natsumi would only act out in the background as trees or bushes and so it was almost as though we were going through the same exact thing.
すごく自分に自信がなくて演劇部なんですけど、その子は木の役とかばっかりやっているんですよ、それがデビュー作だったので駆け出しの頃の自分とすごく重なって、思い出深い役ですね。
T-ONO: Would you say that you had any similar experiences as her growing up?
そのキャラクターと育ってきた環境も同じような共通点とかありますか?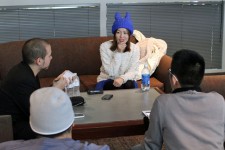 Aizawa: Aaaaah. Let's see. *thinks* Since Natsumi doesn't really have a lot of backstory in the manga, I can't really say exactly if we went through anything similar but personality-wise we're very similar.
うーん、夏美のバックボーンがあまり描かれていないんですけど、とても性格は漫画を読んでて似ているなと思ったんですよね。あまり質問の答えになってないかもしれませんが。
T-ONO: Yesterday, you had a chance to perform in front of SacAnime attendees. How did it make you feel to perform in front of them?
昨日SacAnimeの観客の前でパフォーマンスをしてましたが、アメリカの客の前でパフォーマンスをしてどのように感じましたか?
Aizawa: Most of the songs that I sang last night were original compositions rather than anime covers, so I was thinking that it might be hard for the audience to connect at first. I was really happy that they danced with me, but at the same time I wish I could have done my own MC in between songs.
まず曲がオリジナルでアニメソングではないので乗ってもらうのは難しいなと思ってたのですけど、とても暖かくて、でもやっぱり英語がしゃべれないから、間で言いたい事があっても伝えにくかったりとかそこは残念でした。
T-ONO: You also had a chance to perform your new single "Uu-n, Mou" that's coming out on January 23, how did you and your management come to the decision to perform the new piece?
このライブで1月23日に発売のニューシングル"うーん、もぅ"という曲を歌ったのですが、この曲をここのライブでやろうと思った決定打はなんですか?
Aizawa: The songs that I performed is going to be an opening for a TV show in Japan starting this month. However, there wasn't any live schedule in Japan where I could perform it. Since SacAnime was coming up, we decided that it would be the perfect place to debut the new single before it comes out.
この曲は1月から日本のバラエティ番組のテーマソングになっているのですけど、日本ではまだライブをやる予定がなくて、1月から番組が始まるし、どこかでお披露目したいと思っていたので調度いい機会だったので歌わせていただきました。
T-ONO: Thanks. It was very fun.
ありがとございました、とても楽しい曲でした。
Aizawa: Thank you!
ありがとうございます!
T-ONO: In your career, do you prefer singing or acting?
声優も歌手もやっているのですが、本職として選ぶとしたらどちらを選びますか?
Aizawa: Since voice acting is my Aizawan job, I would have to say that being a seiyuu would have to be my number one priority for my career.
声優が本業なので、歌手はついでです。
T-ONO: Are there any other current or future projects that you can discuss with us?
もし話していただけたらなのですが、今それか将来やるプロジェクトや役、それらについて話していただけませんか?
Aizawa: Up to now, all of my music has been only available through iTunes. However, soon there may be a new CD featuring all my music. Please look forward to it in the future!
そうですね、もしかしたら今年、曲がデジタル配信だったんですけど、CDが出るかもしれないです。
T-ONO: And finally, any message you would like to say to your American and English speaking fans reading this?
でわ、最後にアメリカのファンへのメッセージをよろしければお願いします。
Interview conducted by Jason Young and Salvador Mateos. Translations by Arthur Arends.
Latest from Jason Young