[KOTO] 1/8 Takamachi Nanoha -School Uniform- PVC
Published in
Written by Benjamin Chu
Parent Category: News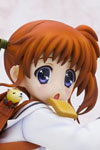 Figures from the series Magical Girl Lyrical Nanoha seem to never stop releasing, maybe because most of them are either insanely cute and/or well sculptured. In any event, this time around Kotobukiya has released yet another Nanoha centered figure. It is a 1/8 Scale PVC figure of Nanoha in her School uniform. Struck in a moving pose, this figure is sure to attract even the not-so-hardcore fans.
Nanoha is casted here as if she is just on her way to school; with a slice of bread in her mouth, Yuuno (in Ferret form) sticking out from her bag and a fluttering skirt, this is a must buy in my book. The face carries a surprised but very cute expression. Promo photos show a very decent paint job on the demo model; however, we shall see how she turns out on the mass production line. Kotobukiya has their hit and misses, hopefully this one will turn out to be a hit.
Scaled at 1/8 for a retail price at 5,800 yen, this figure is actually on the expensive side. There isn't much complexity to the figure and it doesn't come with an elaborate base. With the current exchange rate, this is an expensive buy. Several online retailers should have it for a little bit cheaper, so check your favorite web retailer. Even though this figure is slated to be released in January of 2012, pre-orders have already started.
More photos after the jump.