[Alter] 1/8 PVC Panty Anarchy (Panty & Stocking)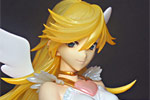 Fans of the popular Panty & Stocking with Garterbelt anime will be thrilled to learn that one of the top figure makers, Alter, has unveiled a stunning colored PVC sample of Panty Anarchy at the recent Autumn MegaHobby Expo 2011. Panty is in her signature pose after transforming into her angel outfit. Little else is known about the figure, but it will be released later next year in 2012. This is probably the best looking Panty figure shown so far based on resemblance and sculpt, and only time will tell if Good Smile Company/ Max Factory decides to top them.
Alter has also revealed an unpainted prototype of Kneesocks from the same series and I would expect a Stocking and Scanty figure to be announced sometime in the near future. Any takers?
Source: Moeyo