Retsu Tateo (館尾冽) Interview
Retsu Tateo (館尾冽) is a female Japanese mangaka best known for her illustrations in Full Metal Panic! She has followed the main story of series as closely as possible by collaborating with the author of the original light novels, Shoji Gatoh. Tateo-san is also the artist of her own manga, Endless Eden. At this year's Sakura-Con in Seattle, we had a chance to talk with Tateo-san discussing how she started working on Full Metal Panic!, her experience illustrating the series, and of course, her mascot frog.
T-ONO: How do you like Seattle so far? Have you had the chance to explore a little?
今のところシアトルはいかがでしょうか?シアトルを観光をする機会はありましたか?
Retsu: I had a chance to visit the markets and the very first Starbucks and that was enjoyable. Also, these two days, the weather has been very nice so I am glad.
市場のほうへいったり、スターバックスの一号店のほうにいったりして、すごく楽しい時間をすごすことができました。あと、昨日、今日と天気がよかったので、とてもよかったです。
T-ONO: We can't help but notice you seem to be a big fan of American movies is that true?
気がついたのですが、アメリカの映画のファンというのは本当でしょうか?
Retsu: Yes (It's True) *laughs*.
本当ですwwww
T-ONO: Are there any particular films, actors or actresses that have influenced your works?
あなたの仕事に影響を与えた、特定の映画、俳優/女優さんはいますか?
Retsu: There are a lot of great movies I like such as Untouchable and The Usual Suspects. I've also watched a lot of American movies based on American comics.
好きな映画はいっぱいあるけれども、中でもアンタッチャブルやUsual Suspectsとかも好きだし、もちろんアメリカンコミック原作の映画もたくさん見てます。
T-ONO: If you could adapt any film into manga form, which would you do?
映画を漫画化するとしたら、どの映画を選びますか?
Retsu: It's already have been developed into a movie from a comic; however, I would want to draw my own perception of Kick-Ass *laughs*.
もう、原作から映画になったものですけど、KickAssは自分でも描いてみたいなと思います。
T-ONO: Can you tell us how you got started into drawing manga.
よろしければ、どのように漫画をかきはじめたのか教えていただけますか?
Retsu: Since I was little, I drew a lot of pictures. There wasn't a particular thing that made me want to become a manga artist. Drawing was just natural for me and I never diverted from that path.
小さいときから絵を描いていたので、きっかけというのはないのかもしれません。描くことが自然だったので、それから道を外れることはなかったです。
T-ONO: Can you tell us about your mascot, the frog?
あなたのマスコットのかえるについておしえていただけますか?
Retsu: *laughs* I like frogs and snakes, the sort of things that girls don't usually like. Frogs have a certain comical aspects to them and I felt that kind of fit me somehow which is why I chose a frog as my mascot.
(笑)カエルとか、蛇とか、女の子があんまり好きじゃないものが私はすきなのですが、かえるはちょっとコミカルな部分があって自分にあってるかなっと思いました。
T-ONO: Have you found any frog goodies yet in Seattle?
今までにシアトルでカエルグッズを見つけられましたか?
Retsu: *laughs* I found something at Pike Place Market. I'll probably go back and buy it.
バイクプレイスで見つけました、あとで買いに行きます。
T-ONO: What was the item?
どのようなグッズですか?
Retsu: I like very realistic frogs rather than cartoonish ones. I found a large realistic frog which is the sort of thing that I really like.
置物なんですけど、すごくリアルなカエルがすきなんで、ちょっとこうカートゥーンみたいなものじゃなくて、リアルなものだったら何でも買いたいと思います。
T-ONO: What kind of equipment/techniques/medium do you use when drawing manga? (tablet, pencil/paper, scanner, etc.)
漫画を描くとき、どのような機材/技術/資料を使いますか?
Retsu: Normally I use normal pencils. When I draw rough drafts, I use mechanical pencil that has color. I also use a brush pens. I rarely do lines digitally because the sense of my drawing changes when I'm drawing them.
普通に鉛筆、それからカラーの(色のついた)シャープペンシルでラフを描いたり。後は筆ペンとか使います。あまりデジタルで線を引くことはありません。というのも、自分の書き味がデジタルだとちょっと違う気がするからです。
T-ONO: What do you mean by sense of the drawing?
書き味"とはどういうことですか?
Retsu: The style, texture, feeling.
スタイル
T-ONO: Probably your most recognized title you've worked on is Full Metal Panic! How did you first get involved with the project?
おそらく、あなたの最も知られている作品はフルメタルパニック!でしょうが、どのようにこのプロジェクトに加わったのですか?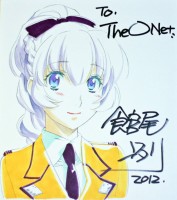 Retsu: Before Full Metal Panic!, I drew manga and doujinshi. An editor saw those and approached me saying there was an entertaining novel that they would like to turn into a manga. They asked me if I would draw it and I said yes.
私がフルメタルパニックの前に描いていた漫画や同人誌を見ていた編集者の方がこういう面白い小説があって、今度コミックにしてみない?と言ってくださったので描きます!と言いました。
T-ONO: Was this when you were just getting into drawing or finalized work?
この話は新人のときに来たのですか?それとも結構漫画を描いた後にきた話なのですか?
Retsu: I was already drawing manga and had them published. The editor saw and read those published works. These mangas was different genre from Full Metal Panic! which surprised me when they offered me the chance.
そうですそうです、もうコミックスもでていて、それを見てくださったんですが、ぜんぜんフルメタルパニックとは違うジャンルの話を描いていたのでちょっとびっくりしました。
T-ONO: How much control and freedom were you given working on Full Metal Panic!?
フルメタルパニックを描いたとき、どれくらいの自由度を与えられましたか?
Retsu: There are long story arcs and short story arcs (typically comedy called one-shots). When it comes to the long story arcs, I didn't want to miss out any important points so I made sure I follow the original story arc. However for the short story arcs, they told me I can pick out any of them from the original and write them how I felt like so I had much more freedom on those.
長編と短編というものがありまして、長編は原作の小説のとうりにしたほうが重要なストーリーを逃さずにすむので外れないように心がけましたが、短編のほうは好きなお話のチョイスして描いてもいいってことだったので、短編はわりと好き勝手に描いていました。
T-ONO: Did you work with the author Shoji Gatoh or the original character designer, Shiki Douji on the manga adaptation?
漫画を描いたときに、原作者、ショージガトーさん、それかオリジナルキャラクターデザイナーのシキドウジさんと協力したことありますか?
Retsu: No, I didn't directly talk with them while I was creating the manga. However, Gatoh-san told me if there was anything in the original story that I didn't understand, call him. So I did call him a number of times.
いえ、まったく描いているときには、特にお話を直接したりすることはありませんでした。ただ、ガトー先生法からはわからないことがあったらいつでも電話してきていいよと言って頂いたのでなんどか電話したことはあります。
T-ONO: Did you design any characters that were not illustrated in the novels?
小説に登場してないオリジナルキャラクターとかはあなたがデザインしたことはありますか?
Retsu: When it came to unimportant characters, I drew them as I like. However they were all really unimportant characters after all *laughs*.
あまり重要でないキャラは描いた事がありますが、あまりたいしたことないキャラクターばかりでした。
T-ONO: Which of the characters was the hardest for you to adapt or draw in Full Metal Panic!?
フルメタルパニックを漫画にする時にもっとも苦労したキャラクターはだれですか?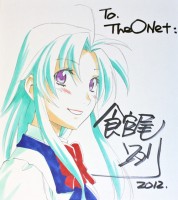 Retsu: That's a difficult question, but I would have to say the main character, Kaname Chidori, because she is the main character and I had to draw her to look very cute and cool depending on the story. I was nervous because I needed to draw her all the time and felt like I can't mess up a bit every time drawing her.
むずかしいですね、でも、主人公のかなめが一番描きにくいかもしれません、というのは、主人公なのでかわいく描いたりかっこよく描いたりしなくてはいけないので、何度も何度も描くのできちんとしないといけないと緊張してしまうからです。
T-ONO: How about adapting the mecha designs? Were those difficult?
でわ、メカのデザインはどうですか?難しかったですか?
Retsu: Yes, it was extremely difficult. I would divide the work up between me and my assistant. I always wanted someone that was good at drawing robots, but that never happened. *laughs*
とてもむずかしくて、私とアシスタントさんで分担して描いていましたが、それでも、もっとうまくロボット描ける人がほしいって思っていたのですが、かなワイ願いになってしまいました。
T-ONO: Was that your first time drawing mecha?
メカを描いたのはその時が初めてでしたか?
Retsu: Yes, it was. I love watching robot animes, but this was my first time drawing them. It was a difficult task for me.
そうです、私はロボットアニメを見るのが大好きなんですが描くのが始めてだったのでとても大変なこころみでした。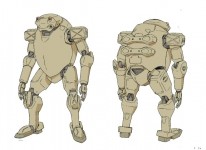 T-ONO: We couldn't help but notice that the Savages mecha looked like frogs. Can you comment on that?
漫画を読んでて気がついたのですが、サベージのメカデザインがカエルのように見えたのですが、それについてコメントはありますか?
Retsu: *laughs* Everyone says that! I get the sense that they included that mecha so I would be able to draw it since I love frogs so much.
(笑)私が描くために作られたメカかと思いました。
T-ONO: The anime series began after your manga was first started. Did that have any influence on your art style as the manga went along?
漫画を始めたころにちょうどアニメシリーズも開始しましたが、アニメ製作に加わりましたか?
Retsu: No, I don't think it did and that's how I feel it should be. There's the original, the anime, and the comic. I think that they should all be separate and all made interesting in their own way. So I don't have the sense that it influenced my style.
それは私は与えていないと思います。そうあるべきだと思いました。原作があって、コミックがあって、アニメがあって、みんなそれぞれ始めての人がどこから入っていっても面白くないといけないと思っていたので、影響与えてるという風には感じませんでした。
T-ONO: If you had to pick one, which of the characters in Full Metal Panic! do you like the most?
もし、選ぶとしたら、フルメタルパニックの中でだれが一番すきですか?
Retsu: The character that I like the most is Lt. Cmdr. Andrey Kalinin. However, the one character that's the most enjoyable to draw is Kurz Weber.
キャラクターとしてはカリーニンなのですが、描くのがすきなのがクルツです。
T-ONO: Endless Eden seems to have stopped somewhat abruptly. If the series was to continue, can you share where you might have wanted to take the story or continue with?
エンドレスエデンの話で、急に終わってしまったように見えました。もし、このシリーズが続いていたとしたら、どのようなストーリーを展開していたか、おしえていただけませんか?
Retsu: I got some different work and I wasn't able to continue both series at the same time. So, I took a temporary break from it. The readers keep telling me to continue the series, even the editor asks me if I have any intentions of starting the series again. So when I get the time, and if the story expands in my mind, I would definitely start the series again.
エンドレスエデンはほかのお仕事が入ってしまったので、同時には続けられなくなってしまったのでいったんお休みにしました。ですが、その後も読者の人たち からもまた連載してくれとずっと言われ続けて、編集さんからもまた続きを描くつもりはないのですか?て言われているのでもうすこしお話が膨らんだら是非続 きを描きたいと思います。
T-ONO: Are you working on any current or future projects that you can discuss?
今、もしくは将来的に計画しているプロジェクトで教えていただけるものはありますか?
Retsu: I'm planning on writing a manga about Japanese history which is quite fun. As for future projects, there are two of my original works that might be published in magazines, but I don't know when that will be. One of them takes place in America. *laughs*
今手がけているのは、日本の歴史を漫画にするというお仕事を今やっていてとても楽しいです。今度雑誌にまたオリジナルの漫画を製作するという企画が二つあって、でもそれがいつ載るかはわかりません。
ひとつはアメリカ舞台のものです。
T-ONO: And finally, any message you would like to say to your American and English speaking fans reading this?
でわ、最後にこれを読んでいるアメリカや英語圏のファンたちに何かメッセージはありますか?
Retsu: Thank you for reading Full Metal Panic! even though some of the story lines are difficult to understand. *laughs* I want to thank them for accepting Full Metal Panic! It would be great if more of my works gets published in America.
とてもわかりにくいお話もあるのにフルメタルパニックを読んでくれてありがとうございます。(笑)すごく受け入れられたなあって思って、これからもフルメタルパニック以外の作品もどんどんアメリカで出版してくれるといいなと思います。
T-ONO: Thank you very much.
有り難うございます。
Retsu: Thank you.
有り難う。
Interview conducted by Roger Lee, questions by Theodore Mak, translation edits by Arthur Arends, article intro by Kevin Yen
Related items