Eddie Lai
LiSA Concert Impressions @ Anime Boston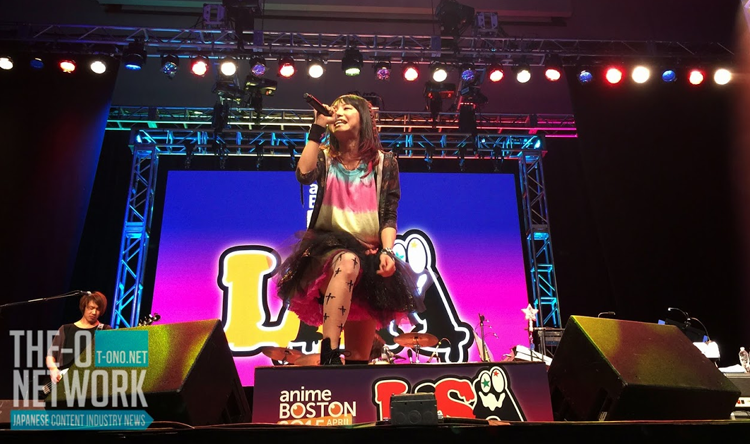 As I'm sure that you're already familiar with this artist from seeing all the concert coverage reports we have produced, LiSA is no stranger to being under the spotlight and rocking out her tunes to a sold out concert. Having just finished her two day Budokan concert, LiSA made haste to begin her world tour with her first stop at Anime Boston, and The-O Network was privileged enough to be at the event to provide coverage of the powerful concert.
Having previously appeared at Anime Expo 2012, LiSA delivered an even more powerful performance than she did back then with more anime-related tunes than what she brought last time. Anime fans quickly recognized her signature themes such as "Oath Sign" from Fate/Zero, "Crossing field" from Sword Art Online, and of course "ichiban no Takaramono" from Angel Beats! Just to name a few.
LiSA's concerts have always been quite the spectacle to experience, with the way she interacts with her fans and engages them. This was clearly seen when she got everyone in the audience to dance with her when she sang "WiLD CANDY." LiSA certainly knows how to deliver a massive amount of energy to her concerts and crowd, and that resonated with her fans. What was even more amazing was to see the number of fans in the audience waving her signature pink glow stick that was only sold at her concerts in Japan. The scene was similar to what we witnessed at her Budokan concert last year with the sea of pink glow in the audience that I'm sure surprised LiSA herself.
LiSA's concert overall was an absolute blast filled unlimited energy and passion coming from her songs, as you would expect if you heard her CDs already. During the whole concert, you can feel the love her fans has for her as you see everyone moving their glow sticks in unison to the beat of her music and singing. My personal favorite was still when she performed her iconic song "ichiban no takaramono", but I felt that she did not have the same level of emotion as she did during her Budokan performance or her 2010 final performance as Girls Dead Monster. However this was probably because she saved all her all her emotions for the last song before encore at the concert "shirushi", which everyone in the audience recognized from Sword Art Online.
All in all, the concert was a bigger success than when she appeared at Anime Expo since more fans recognize her music from the various Anime series she participated in. It was especially commendable she was able to pull off such a powerful concert while dealing with jet lag and having to travel for another concert in Mexico two days later. We look forward seeing her future appearances and perhaps Budokan once again.
Set List
M-1 – best day, best way
M-2 – oath sign
M-3 – thousand Enemies
M-4 - Mitsu
M-5 – traumerei
M-6 – ichiban no takaramono
M-7 – No More Time Machine
M-8 – WiLD CANDY
M-9 – Crossing field
M-10 – Rock-mode
M-11 – Rising Hope
M-12 – Bright Flight
M-13 – shirushi
Encore -1 – Crow Song
Correspondent – Eddie Lai
Photographers – Eddie Lai, James Wu, Eva Ng