May'n (中林 芽依) Backstage Chat @ Animelo 2009
May Nakabayashi, best known as May'n on stage, made her major break in 2008 as the singing voice of Sheryl Nome from Macross Frontier. May'n returned to perform at this year's Animelo Summer Live, one of the largest anime themed concert, on August 22, 2009. Unfortunately due to scheduling issues, we were unable to arrange for a full interview. We were able to get a quick photoshoot and a few questions in briefly with her.
T-ONO: Please tell us about the work you have done thus far.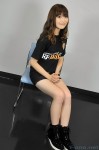 May'n: I have performed Sheryl Nome's songs from Macross Frontier as well as theme of "Shangri-La!"
I love meeting my fans at live performances, so I am performing in a lot of concert tours and events both here in Japan and abroad.
マクロスFのシェリル・ノームの歌や、シャングリ・ラの主題歌を歌っています!
ファンの方に直接会える"ライブ"が大好きで、コンサートツアーやイベントなど海外含めたくさんライブをしています★
T-ONO: What are you doing right now and in the near future?
現在の主な活動や今後の活動をお教えください。
May'n: The "Macross Frontier" movie will be released in November! I hope to show another side to Sheryl in her songs.
I have several concerts planned overseas, but on Jan. 24, I will have my first solo live in Japan at the age of 20 in the Budokan arena (Martial Arts Hall)!
11月にはマクロスFの劇場版が公開されます!また新たなシェリルを表現したいな、と思います。
海外でのライブもいくつか決まっていますが、日本では1月24日に20歳になって初めての単独ライブが武道館で行われます!
T-ONO: Why did you decide to become a singer? Also, what brought your opportunity to sing theme songs for anime?
歌手になったきっかけは?また、アニメの主題歌などを歌われるようになったきっかけはなんですか?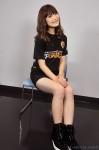 May'n: I became a singer when I passed my management agency's audition.
And I was selected to sing an anime song when Yoko Kanno, the music producer of "Macross Frontier" heard my singing.
歌手になったきっかけはマネージメント事務所のオーディションに受かって歌手になりました。
アニメの主題歌を歌うきっかけになったのは、マクロスFの音楽プロデューサー、菅野よう子さんが私の声を聞いてくださったのがきっかけです。
T-ONO: Are there any Japanese or American artists that have had an impact on you?
日本人もしくはアメリカ人のアーティストで触発された人物はいますか?
May'n: Kylie Minogue and Madonna. I look up to them for always being at the head of the times and creating their own trends.
カイリー・ミノーグ、マドンナ。常に流行の先端をいく、流行を自分でつくるところが尊敬します。
T-ONO: Were you excited about going to sing and meet fans at AniSama?
アニサマで歌うことや、ファンと会えることを楽しみにしていましたか?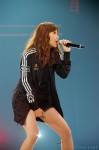 May'n: Of course!
I see everyone's faces when I sing during live concerts, so the songs change each time. That's why I love concerts!
All of my fans' energy at the concert turns into my energy for the next day, and I want to have that kind of effect on everyone too!
もちろんです!
ライブは、みんなの顔を見て歌うので、毎回毎回違う歌になるんです。だからライブが大好き!
ライブでのファンのみんなのパワーがまた明日からの力になるし、私もそんな存在でありたいです!