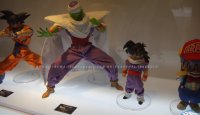 Medicom
brought out the big guns at their Toy Exhibition this weekend in Japan, and judging by their list of projects, they're dipping their brush in a wide palette of colors, bringing to the canvas a varied range of figure licenses such as
Star Wars
,
Dragon Ball Z
,
Metal Gear Solid 4
,
The Dark Knight
,
Indiana Jones
, and much much more. While known for their 1/6 scale premium action figures, Medicom also produces smaller action figures as well as Lego-esque Kubricks and Bearbricks.
Check out the full product list after the jump (Click "Read more")

Click the title image to see the rest of the Medicom Toy Exhibition photos over at
Toy-World
.