Dawn Lam
Top 5 Booths at E3 2017
Every year, game publishers bring to us, the attendees of E3, amazing set-ups, and this year was no exception. Here are our top 5 picks:
Walking through the halls of E3 in the West Hall and slightly hidden towards the back of the hall, sits the Bandai Namco booth. The major thing that stood out for us was the Ni no Kuni II set. A nice little garden theme leading attendees into a row of consoles to try the game and a throne for photo-op at the end. Right behind it sat the newly announced Dragon Ball Fighter Z with a fog machine and posters. While impressive, the fog dimmed the area and did not quite stand out amongst the contenders.
Strolling down the halls of E3, we suddenly entered the red light district of Tokyo. Atlus brought to E3 a set right out of their next installment of the Yakuza series. Attendees who were trying out the game were situated right in the middle of the makeshift hallway while bypassers roamed through, creating a realistic image of the Kabuki-Cho district of Tokyo.
3. Bethesda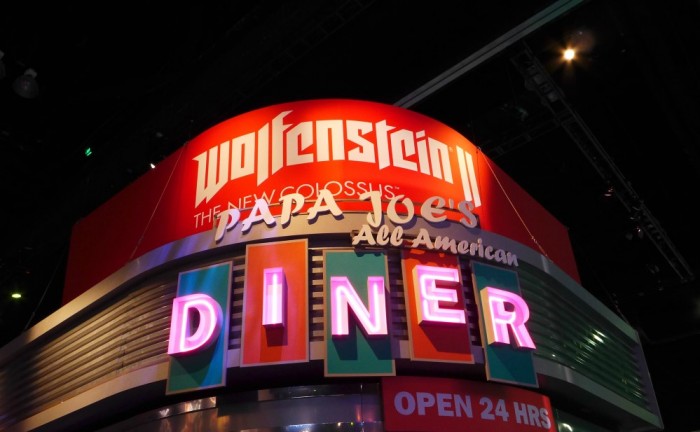 Bethesda never fails to impress when it comes to booths. This year at E3, they brought with them a mini diner out of Wolfenstein II: The New Colossus. The booth stood as an individual unit rather as an attachment of the whole of Bethesda. Peeking inside, we saw character actors dressed in 50's style clothing serving real milkshakes to those trying out the game.
2. Capcom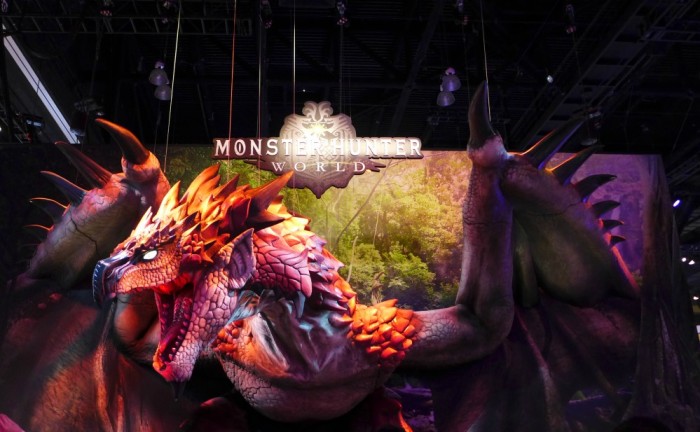 What stood out the most was the gigantic dragon-like beast protruding out the side of the Monster Hunter theatre. Right beside it was Marvel vs Capcom: Infinite with Ultron on a throne and several large screen displaying tournaments for MvC Infinite and Street Fighter V. Tucked away was a section dedicated to the beloved Megaman series where attendees could play Megaman Legacy Collection 2.
1. Nintendo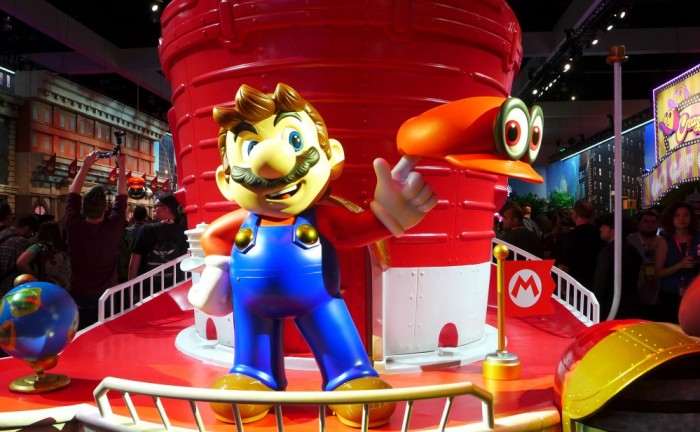 Nintendo definitely stole the show once again this year. Recreating New Donk City from the Super Mario Odyssey trailer, the area was constantly jumping with action; from Pokkén Tournament DX matches to Splatoon 2 tournaments. The center of the room showcased their newly announced Amiibos. Life-sized statues of goombas, chain chomps and bullet bills surrounded attendees waiting to try out Super Mario Odyssey. Jam packed with people there was never a dull moment.

These are the five booths that stuck out to us from E3 2017! If you were able to attend, comment below, and tell us your favorites!