Osman Numair
Special Clone Wars Screening: Savage Opress Arrives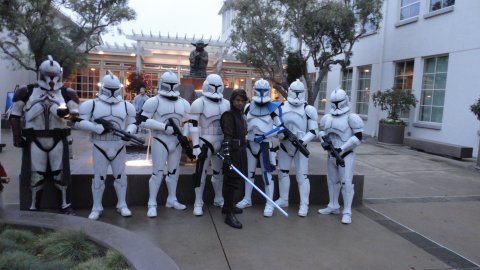 On December 10th Lucasfilm held a special screening in San Francisco, CA at the Lucasfilm campus in order to introduce a new villain to the Star Wars: Clone Wars TV series, Savage Opress. Three episodes were shown back to back with no interruptions, much like the original Clone Wars movie. This special screening was free to any fans that were able to obtain the limited number of tickets. Surprisingly, an assortment of Star Wars personality were present at the screening including Dave Filoni, Supervising Director of the Star Wars: The Clone Wars TV series and Daniel Logan, the young actor who played Boba Fett in Episode II and the Clone Wars.
Near the end of the screening fans were ecstatic and shocked to find out George Lucas himself was sitting in the theater along with his daughter, Katie Lucas. While there wasn't an opportunity to approach Mr. Lucas, fans were given a limited edition poster and T-shirt featuring the new Darth Maul like character, Savage Opress. Star Wars fans will be treated with these awesome episodes later in season three sometime in January.
Here are some pictures of this one-of-a-kind event, Enjoy!
Latest from Osman Numair