Dance Masters with Naoki Maeda at E3
Dance Masters is probably one of the more interesting game debuting at E3 and is being made by the creators of Dance Dance Revolution. Naoki Maeda, probably best known as simply NAOKI from the Dance Dance Revolution (DDR) series and producer for Dance Masters, introduced the game by dancing with us to the fan favorite DDR song, Night of Fire.
Players are free to dance and move however they want, except for certain sequences where they must pose (indicated by a green body outline) or move their arms and legs in specific locations indicated by a blue ring. Motions and movements are tracked by the Xbox 360's Kinect. Easier difficulties have less pose sequences, allowing players to have a bit more freedom in learning the dance movements, while higher difficulties will test the player's memory. From the current version of the game we played, the game's difficulty settings were similar to DDR's renamed as Light, Standard, Extreme, and Stealth.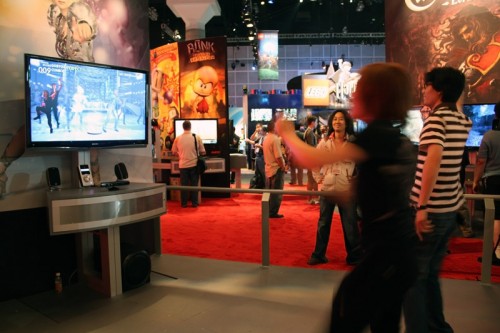 Dancing with Producer Naoki Maeda
Maeda-san came up with the idea for the game after witnessing the unveiling of Kinect (previously named Natal) at last year's E3. With influences from DDR, Maeda-san was looking to create a more free form game with no barriers, giving players a bit more leeway than DDR to create their own dance moves. With initial production, the game proved to be very difficult to program, especially with the full body motion tracking system, something completely new compared to ParaParaParadise's on and off sensor in the arcades.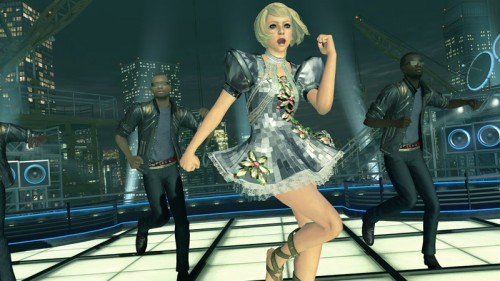 Maeda-san revealed to us that currently they are planning around 30 songs for release with downloadable content in the future. Players may look and feel silly the first time they play the game, but with anything, practice makes perfect and they'll be grooving like a pro in no time. Fans of DDR and ParaParaParadise definitely will be dancing the night away, but will your average American be just as receptive? How will the game fair against Rock Band creator Harmonix's Dance Central, also announced at E3? We'll find out later this holiday year when the game is currently expected to be released.
Demonstration at Konami's E3 Press Conference