Stephen Bajza
J-Pop Summit Festival 2012 Convention Report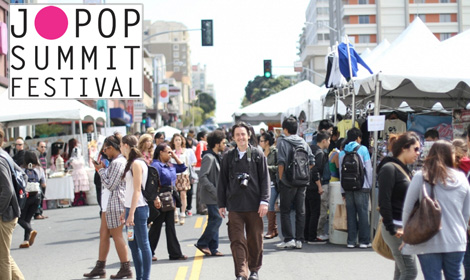 Last year's Jpop Summit was a bittersweet experience for me. On the one hand, it was great to see Jpop enjoying a festival of its own, but on the other, I was disappointed to see such a heavy focus on Vocaloid and Hatsune Miku. Granted, the Vocaloid phenomenon is undeniably a part of Japanese pop music, but I was hoping for insight into the Jpop scene not viewed through the lens of anime and video games. As I walked down the street towards Japantown for this year's festival, I kept my expectations neutral but hoped for a greater focus on Japanese musicians. As I got closer, I heard a cover for "Call Me Maybe" by Carly Rae, and I cringed. Once I reached the plaza, I saw that there were three white girls playing covers of American pop music, and I struggled to understand the relation between this act and Jpop. As the day went on, I found a pleasantly surprising answer.
First and foremost, this event is a festival which celebrates Japanese pop music, and the festival aspect did not disappoint. There were plenty of vendor stands in the street as well as great food trucks, so the atmosphere was very festive. Whenever Japantown gets taken over for a weekend by an event like this, San Franciscans have immediate access to a fun, enriching experience and a great excuse to enjoy Japanese culture. No matter what else is going on, when I can eat ramen and a desert crepe, buy art prints, check out vendor booths, rub shoulders with cosplayers, and enjoy live music, I'm going to have an excellent time.
What the summit also does very well is attract great vendors and guests. The Evangelion scavenger hunt was a fun addition to the festival, and motivated people to move around and complete a challenge. It was refreshing to see a booth provide visitors with an activity, rather than pushing the standard fliers and advertisements into everyone's hands. Of course the live music was great, and being able to enjoy a star like Kylee put on a small concert was a boon. Just like last year, the Jpop summit was a great way to get the experience of a day at a convention without straining through a press of bodies or worrying excessively about time constraints.
After all my window shopping was finished, I grouped up with the T-ONO crew and we headed to On the Bridge, a restaurant inside the Japantown mall. On the Bridge is a great restaurant that specializes in Japanese and Western noodle dishes and has a homey atmosphere: the back table is littered with toy statues, they're always playing anime and live action shows on the television, and most of the seating is on swivel chairs at the counter. I had eaten a big breakfast and decided to order a small plate of garlic fries, which was one of the biggest mistakes of my life. These garlic fries were 'Japanese style', which meant the fried potato slices were covered in a spread that tasted like garlic and wasabi had genetically merged to create the sensation of fire breathing bullet ants assaulting my tongue. I was able to down two whole slices, spread and all, but began scraping them just so I could eat fast, save my GSI from intense pain, and prevent my breath from smelling like I had stuffed a dead skunk in my mouth.
As we headed out of the mall, the new band in the plaza was playing Japanese music. When they had finished their song, the lead singer told the crowd that he was going to play something from one of his favorite parts of Japanese pop music: eighties Japanese metal. My first thought was, "how is metal pop music?" but soon forgot about my presumptions as the song kicked in. A few minutes later it was time to interview Kylee, a very talented and engaging young woman who has made a successful splash in the Japanese music industry. Kylee told us during the interview that she was born and raised in Arizona, one of her parents is Japanese and the other is Caucasian, and she spends her summers in Japan to produce music.
It was after our interview with Kylee that all the pieces came together for me: the Jpop summit actually does a great job of representing Jpop music. The summit reflects what Jpop means to Americans, which is very much a part of Jpop culture at large. When one nation's culture seeps into another, it inevitably morphs into something new yet still linked to the original. This summit is a celebration of Japan's musical influence in our own culture from helping inspire three American girls to play music to providing avenues for artists like Kylee to become stars. Just like the chef from On the Bridge put a Japanese spin on garlic fries, Americans receive and reflect Jpop in their own way, and in doing so add something new.
Whether you love music, Japanese culture, or festivals, the Jpop Summit was once again an event I would highly recommend checking out. I had a lot of fun and learned a few things. I look forward to seeing what next year's Summit brings, and here's to its continued success!
Latest from Stephen Bajza