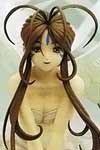 In the December issue of Hobby Japan, the first colored pictures of Griffon's Belldandy figure from Ah My Goddess! Prototypes of the figure appeared at several conventions in the past (can be found here and here).
Part of the 20th Anniversary celebration, she will be available for 12,390 yen around Spring 2009.
Full page scan inside.