Roger Lee
Maon Kurosaki (黒崎 真音) Interview @ Anime Expo 2011
The new girl on the block, Japanese singer Maon Kurosaki made her first American debut in Los Angeles at Anime Expo 2011. Kurosaki-san started her career relatively recently in 2010, but she has provided her musical talents for some popular anime series such as High School of the Dead, and Toaru Majutsu no Index II. Kurosaki-san's growing popularity has landed her a spot this year at one of the world's largest anime themed concert, Animelo Summer Live held in the Saitama Super Arena in Japan. Hear about how Kurosaki-san started from working at an idol café, to her professional debut in our brief interview!
T-ONO: Thank you for coming to L.A. for your first American debut. Are you excited for this performance?
Kurosaki: Of course I'm excited. This is my first live performance in the U.S. and I'm really excited to see how people are going to react and enjoy my music.
T-ONO: Did you make any preparations for your American performance?
Kurosaki: I don't speak English very well, but I've heard that MCing is better if it's in English, so I practiced a little bit of English so I can have more of a dialogue (or a conversation) with the audience. And also I'm going to be performing a new song, so I've been practicing the new song with a performance and of course the singing itself.
T-ONO: Tell us a little about your previous work at the idol cosplay café, Dear Stage Club in Akihabara.
Kurosaki: At Dear Stage, I was working as a waitress and it was a space where we usually serve food and perform on stage two or three times a day. I sang a lot of anime songs at Dear Stage because I like them a lot. It was a small event space, but there was a good atmosphere between the anime fans and those of us who performed. I tried very hard to meet everybody's expectations, at the same time I experienced the excitement of performing live on stage. After I debuted, I performed on bigger stages, however; because I had the experience of doing live performances on a small stage at Dear Stage, I was able to have a better imagination and inspiration on how to show myself on stage easier and more comfortable.
T-ONO: Can you tell us about any changes since your debut?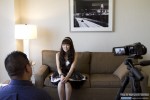 Kurosaki: I was working at Dear Stage until I debuted in September 2010. Now, I have been writing lyrics for a few songs and singing songs that are not anime songs. When I sang songs for anime, if it's the ending theme it's the conclusion of the show, if it's the opening song for an anime, the song represent the anime itself, I feel the responsibility of matching to the show and the world created by the anime. I would have to adjust the voice, the mood, or the tone to fit the anime. Also, I'm learning to coexist with anime in that way. One of the big changes between working at Dear Stage and after my debut was the mindset of how I think about anime and how to coexist with them.
T-ONO: You've been mostly performing anime related music, do you plan on continue doing that or do you plan to maybe move on to more mainstream music?
Kurosaki: Singing anime songs was a dream of mine and I would like to continue to do so. At the same time, I want to develop my own style of songs and grow myself as a musician. Anime is an important part of my life and I want to give birth to more excellent anime songs.
T-ONO: We've covered Anisama (Animelo Summer Live) before and we know how amazing it is. Are you excited to be performing at one of the largest anime-themed concerts later this year?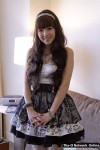 Kurosaki: It's an exciting event that I'm there myself every year. When I first saw Anisama, I always wanted to stand on the stage surrounded by those amazing performers. Now that I have the chance to do so, I'm very happy. I feel a little nervous because it's such a large stage, but I'm committed to enjoying myself and having a great time with the audience while making it a great experience.
T-ONO: Do you have any messages for American fans or English speaking people that were not able to attend AX this year?
Kurosaki: This is my first time in the U.S. and it's my first live performance as well. There are a lot of people that I haven't met yet, but it is great that I can have a connection between the people in the United States through anime. I know there are more people I need to meet, but haven't yet, I hope I can see them through my music and hope my music will reach their hearts.
Latest from Roger Lee