Mamoru Miyano (宮野 真守) Brief Chat
Mamoru Miyano is probably best known for his voice acting work as Death the Kid from Soul Eater, Setsuna F. Seiei from Gundam 00, Tamaki Suoh from Ouran High School Host Club, and Light Yamagi from Death Note. Apart from voice acting, Miyano has also started pursuing a singing careering back in 2007. Miyano was also invited to perform on August 22, 2009 at the 5th anniversary of one of the largest anime themed concerts, Animelo Summer Live. Due to scheduling issues, we were unable to hold a full interview, but we were able to hold a quick photoshoot and get a few questions in
T-ONO: Please tell us about the work you have done thus far.
これまでの活動実績を教えてください。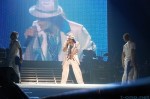 Mamoru Miyano: Aside from doing voices for anime characters, I have also been an actor for various feature films. I also debuted as a singer in 2008.
声優としてアニメのキャラクターを演じる他、俳優として映画に出演したりもしています。2008年には歌手デビューも果たしました。
T-ONO: What are you doing right now and in the near future?
現在の主な活動や今後の活動をお教えください。
Miyano: I'm doing my best as an actor, voice actor and singer! My second concert tour is set to start this fall.
俳優、声優、シンガーとして頑張っています!秋には、2ndライブツアーもあります。
T-ONO: What made you decide to become a voice actor? As a singer?
声優になったきっかけは?また、歌われるようになったきっかけはなんですか?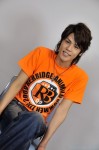 Miyano: I joined my current acting group when I was seven years old. I liked to express things since I was young, and I trained hard in my acting. I got my first voice acting job when I was a senior in high school. I think that I was able to debut as a singer because I had worked hard in voice acting.
7歳の頃、今の劇団に入りました。昔からいろいろ表現する事が好きで、稽古に励んでいました。声優として役をいただけるようになってきたのは高校3年生の頃以降です。歌手としてデビューするチャンスをいただけたのも、声優を頑張っていたからだと思います。
T-ONO: Are there any Japanese or American artists that have had an impact on you?
日本人もしくはアメリカ人のアーティストで触発された人物はいますか?
Miyano: EXILE, Ken Hirai, and Michael Jackson.
EXILE、平井堅、マイケル・ジャクソン
T-ONO: Were you excited about going to sing and meet fans at AniSama (Animelo)?
アニサマで歌うことや、ファンと会えることを楽しみにしていましたか?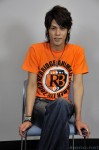 Miyano: To me, it is an honor to be able to perform in front of all my fans.
I get a lot of energy from everyone's smiles and cheers. So I was really looking forward to this concert too.

ファンの皆さんの前でパフォーマンスする事は、僕にとってとても幸せな事です。
皆さんの笑顔と声援にいつも元気をもらっています。だから今回もとても楽しみにしていました。