Kia Asamiya (麻宮 騎亜 ) Interview
Kia Asamiya is an unique artist who has worked on American comics such as Batman and X-Men. Back home in Japan, he has work on popular manga titles like Silent Mobius and Martian Successor Nadesico. While at this year's FanimeCon, we caught up with the man and discussed briefly about some of the differences between American and Japanese works and also a little about his current titles in Japan. Read also about his future projects such as the possible continuation on Silent Mobius!
T-ONO: We know that Kia Asamiya is your pen name. Can you tell us a little bit about how you came up with that name or if it has any significant meaning to it?
麻宮・騎亜というのはペンネームですよね。もしよろしければ、どういういきさつでこのペンネームを選んだのか教えていただけませんか?

Asamiya: In Japanese culture, there's a philosophy that the number of strokes in kanji of your name reflects how long your life is going to be. I did a lot of research on that and chose Kia Asamiya because the number of strokes in kanji are bountiful. The very last kanji, 'ah', is actually the same as the 'ah' in Asia. I wanted to emphasize that I am from Asia, rather than from Japan.
日本というか、アジアの方では漢字の描く順の数によって、人の人生を占うというのがあるので、で[麻宮・騎亜]というのは自分で調べて思いついたんですよ。一番最後にアジアの亜が入ってるんですよ。で、一応日本出身というよりはアジア出身ということです。
T-ONO: Talking about influences, we know you've worked on a lot of American comics. As an artist, do you have any particular Western stories or Western art that you were influenced by starting out?
影響といえばですね、麻宮さんはたくさんのアメリカのコミックスを手がけてますよね。画家として、一番最初に影響を受けたアメリカや西洋の画家や小説などありますか?
Asamiya: The first American artist that influenced me heavily was Frank Frazetta who did Vampirella, Jean Jerome Mebisu from France, Mike Mignola, who does Hellboy, recently Adam Hughes, and the animator for the Batman series named Bruce Tim. I've had a variety of Western influences.
一番最初の海外のアーティストで好きになったのはFrank Frazetta、ヴァンピリアとかね。その後、フランスのジャンジュロームメビウスとか、アメリカで言えばマイクメノーラとか、最近でいうとアダムヒューズ、バットマンアニメーテッドのアニメーターのブルースティム。そういうのから影響受けてるね。
T-ONO: How did you get into the American series that you did?
どういう経緯でアメリカンコミックスを手がけるようになったのですか?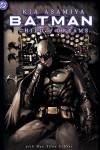 Asamiya: I've always wanted to do a Batman related manga, and it just so happened that an opportunity for that came up in Japan and I jumped at the chance. I approached them about doing it. As far as Marvel franchises go, I actually had a friend in America who was an editor at Marvel and he kind of got me in. He's currently a scout for Marvel now.
えーと、バットマンのほうは僕のほうがやりたいと言って、まぁ、日本の漫画誌でバットマンをという企画があったんで、やりたいということで。逆にマーブルはマーブルに近い友人がいまして、彼はエディターだったんですよ。で今はマーブルに入って、スカウトやっていますけども。そういう経緯でやることになった。
T-ONO: With the different styles, we know you're currently working on several series, were there any difficulties transitioning from a Japanese style to a more Western style?
今や色んなスタイルで仕事をしている中、日本のスタイルからアメリカのスタイルの絵に移転するにいたって、難しい事とかありましたか?
Asamiya: Even before I started working on American comics, I was very knowledgeable of the whole system because making Japanese comics and American comics are completely different but I understood how the American side worked. In that sense, I actually was prepared for it. As far as Batman was concerned, I had much more freedom like what I had when I was writing my Japanese manga, so it was only between me and the DC editor creating Batman. With Uncanny X-Men, I only worked as a penciler and an inker so it was incredibly limited what I can do based on the scenario which was already given to me, even to the point where the text for each panel would describe what angle the camera was looking over what shoulder, and I found that incredibly restrictive and felt keenly the difference between drawing a Japanese manga and a American comic.
システムは知ってはいたんで、でも実際の作業で辛いって思うのはちょっとしかなかった。バットマンの漫画は日本で自分の漫画のようにほとんど自分とDCのエディターの打ち合わせで作っていったんですけど、X-Menのほうは純粋にペンシラーとインカーという仕事をやっただけなのでその辺の違いというのは痛感することになったね。X-Menはシナリオがあがってきてそのシナリオにそって絵を描いてきたんで。しかもシナリオがテキストによる根底なんですよ、傘がここにあってとかで、それが苦しかったかなー。
T-ONO: Can you describe a little bit on the differences between working on a Western comic and a manga?
もしよろしければ、日本の漫画とアメリカのコミックスを手がける時の違いというものを教えていただけませんか?
Asamiya: As far with the manga, there is the creator/artist and the editor. They would go over the scenario together and make and manga. So the creator can also have a strong voice to his own creation. In American comic books, generally the publisher owns the exclusive rights to that franchise, the publisher has the initiative over the franchise, therefore the creator/artist needs to follow the publishers demands when they created the world of its creations.
日本だと漫画/クリエイターがいて、編集部とディスカッションして作っていく、なのでイニシアティブは作家のほうも取れる。アメリカは出版社自体が作品を持っていて、出版社が作品のイニシアティブを持っていて、クリエイターは出版社の支持にしたがって世界を作っていかないといけない縛りはあるんだよね。
T-ONO: Are you working on any current Western projects?
現在手かげてる西洋のプロジェクトとかありますか?
Asamiya: Not right now, not at the moment. I'm plenty busy with all of my work in Japan.
今はちょっとやってないですね、日本での仕事がいそがしくて。
T-ONO: If you had the opportunity, is there any particular American series you'd like to work on?
もし機会がありましたら、手がけたいアメリカのシリーズとかありますか?
Asamiya: A little while back I drew a cover for an Iron Man comic, but now I'd probably like to draw an entire comic book itself.
うーん、そうだなー、まあ一応、アイアンマンはカバーだけ描いたことがあって、今度は中を描いてみたいな。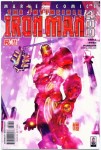 T-ONO: Any particular reason why Iron Man out of all the series?
なぜアイアンマンなんですか?
Asamiya: As far as Iron Man's concerned, Marvel actually approached me. It was for some kind of anniversary.
マーブルのほうから描いてくれと、なんかの記念とかだったね。
T-ONO: Let's switch over to more of your Japanese work. The title Junk has a darker undertone. Can you tell us how you were inspired for the title?
では、今度は日本の作品について語りましょう。タイトル"ジャンク"はとても暗いイメージがありますね。もしよろしければ、なぜこのようなタイトルをお付けになられたか教えていただけませんか?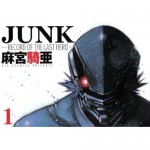 Asamiya: So I wrote many super hero stories, including Batman, but what I kind of wanted to do with Junk is to show the reality side of the super hero that they don't show in the normal super hero series, so Junk became a really dark and realistic piece.
ジャンクは今までは結構ヒーローもの、バットマン含め、やってきたんですけど、その中で、自分もヒーロー漫画が好きなので、今までヒーロー物に描かれないもの、アンタッチャブルなものをちゃんと描きたいというのがあって[ジャンク]というタイトルをつけた結果、とても暗いリアルなものになってしまった。
T-ONO: So in that sense it kind of brings some of that Western influence over into a Japanese title?
ということは、西洋の影響を日本のタイトルに持ってきた感じですか?
Asamiya: Mhm.
うん、そうだよね。
T-ONO: With more recent titles you've done stories about cars like My Favorite Carrera. How did you decide to start doing stories about cars?
もっと最近の作品でたとえば"彼女のカレラ"のような車の事について書いてますね。何故車の事について書こうと思ったのですか?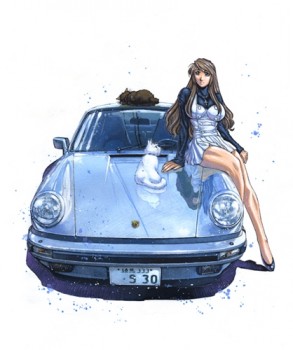 Asamiya: I'm a huge car nut, so that's why I decided to write stuff with cars in it.
そうですそうです。
T-ONO: Do you own a Porsche?
ポルシェをお持ちですか?
Asamiya: Yeah, a Porsche 911, Carrera. (hesitantly)
ああ、ポルシェの911を。
T-ONO: Did you have to do a lot of research for it, or did the series spring up from buying a Porsche?
こういう物を書くに至って、たくさんのリサーチしたり、ポルシェを買った事でストーリーが思い浮かんだのか、そういうことについて教えてください。
Asamiya: Despite the fact that I'm a big car enthusiast, in My Favorite Carrera, a variety of super cars appear. So took thousands of pictures, and I talked to as many owners, all the dealers and the makers. I tried to get as much information as I could because I realized that what I would need to do if I want to get it right with the other cars.
いやいや、彼女のカレラは色んなスーパーカーが出てくるので、本当に写真をたくさん撮って、そういう車のオーナーの人やメーカー、ディーラー、本当に色んな人に話しを聞いて、描きました。
T-ONO: Which publisher is it currently published under?
今はどの出版社で出版されてるんですか?
Asamiya: Shueisha. Internationally, it's currently only available in Hong Kong.
集英社、海外版では今は香港版しか出てないですね。
T-ONO: We know in the series the main character, Reina, I believe she is an editor working on a comic or Weekly Playboy?
正しければ、主人公のレイナは確かウィークリープレイボーイか何かの編集者でしたよね?
Asamiya: So she goes from being an editor in Play Guys (or Guides) to being an editor a magazine called Driven.
あー、プレイガーイズね、でプレイガーイズから移動になってドリブンという車雑誌の編集者になってますね。
T-ONO: In terms of Himegami Gadget, is this a continuation of the trend of darker themes and involving cars?
姫神ガジェットの場合、これは最近麻宮さんの作品のような暗いイメージや車やメカがでてくるんですか?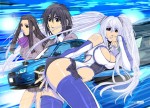 Asamiya: Originally, Himegami Gadget was not supposed to be a manga at all. It was supposed to kind of be a manga series that appeared in the My Favorite Carrera world, but I realized if I wanted to do that I had to have at least have a little bit of scenario and setting set up, but as I was doing that I just said, "oh screw it, I'm just going to take this and turn it into a manga."
姫神ガジェットって、実を言うと漫画で最初は考えてなかった。彼女のカレラの中の世界の流行ってる漫画という話だったんですけど、急遽漫画を始めなきゃいけなくなって、彼女のカレラの設定を引っ張りだして、描いていったんですよ。
T-ONO: So the editors just went with it?
では、編集者はそれでよかったんですか?
Asamiya: As far as Hinagami Gadget is concerned, it was actually under Flex Comics.
姫神ガジェットは集英社じゃなくフレックスコミックスなので。
T-ONO: Currently you're working on those two series. Do you plan on any other future projects?
ただいま二つのシリーズを手がけていますよね?他にも作品を手がける予定とかありませんか?
Asamiya: Currently I am not really sure; however My Favorite Carrera might end within this year. But it just happens to be that next year is the twenty fifth anniversary of Silent Mobius, and I might start a new series next year.
一応今はどうなるか分からないんですけど、今年で彼女のカレラが終わっちゃうかもしれないんですよ。で、その後次ぎに何をしようかということで、ちょうど来年サイレントメビウスがスタートして25周年なんですよ。だから来年から、サイレントメビウスのニューシリーズを始めようかなーって思っております。(笑)
T-ONO: Just to wrap up, every artist has their own technique. What tools do you use, what's your preference?
では、そろそろ最後の質問にしますね、画家というのは大体自分のテクニックというものがありますね。どんな道具を使ったり、どういうのがお気に入りだったりしますか?
Asamiya: In the early nineties, I was one of the first adopters of using Macs. I been using Mac for the longest time, but as I start using it more, I started to feel dull about it. So recently I've been doing all of my coloring in analog where I'm actually hand coloring everything. If it's a standard monochrome page, I will draw the lines and do the final touch up on computer.
僕は仕事にマッキントッシュを91年ぐらいに入れまして、他の人より早くマックを使っていたんですけど、どんどん使っていくとあんまり魅力感じなくなっていって、最近はカラーはアナログに変えていったんですけど、ただ漫画のモノクロの漫画は半分、線画はアナログで描いて、スキャンして仕上げはコンピューターを使ってますね。
T-ONO: What kind of software do you use?
ソフトウェアは何を使っておられますか?
Asamiya: Photoshop ONLY! (laughs)
フォトショップオンリー。(苦笑)
T-ONO: Do you have any parting advice for aspiring artists?
若い画家や将来画家になりたい人たちにアドバイスはありますか?
Asamiya: This is something I practice myself too. First and foremost: expand your horizons (or vision). It's fine to focus on those things that you're really interested in, but try to absorb as much of the world as you can. As far as how good your art quality is, that's really secondary and shouldn't even be on the radar. It's about researching, understanding, and learning as much as you can. Especially with kids, it's all well and good to like anime and manga, but you all better study!
うーん、僕にも言えることなんですけど、視野を広く持つという事が大事だと思うんですよ。自分の好きなものだけ追求するのもオッケー何ですけども、色んな物に興味を持って勉強するのが大事だと思うんですよ。絵っていうのは、僕の考えなんだけども、絵のうまい下手は二の次なんですよ、一番大事なのは色んな事に興味を持って調べて、色んな事を知識として持つというのが大事なんですよ、なんで若い人にアニメや漫画もいいんですけど、もっと勉強しろということです。(笑)
T-ONO: Any message for your fans in the U.S.?
アメリカのファンへのメッセージはありますか?
Asamiya: First and foremost, the fans are what give me my motivation to keep doing what I do. Being able to come oversees and being able to meet the fans and talk to them and give them advice is fantastic. I'm incredibly thankful for all the fans that are willing to take the time to go out and meet me and cheer me on. As a way past technology goes, print media in Japan is starting to go away as everything becomes more digitized, as long as it's okay in Japanese, my comics are available for free on the web and its free! So I would implore my people to give it a read and keep looking at my stuff and keep cheering for me.
皆さんの応援が僕の漫画を描くというモチベーションにすごく繋がるので、こういうコンベンションでファンの皆さんにお会いできるというのはすごいうれしい。今までは海外のコンベンションに来るというのはあんまりなかったんですけど、やっぱり会えて楽しいし、うれしいし、ありがたい。そして、今、日本の出版業界は紙からネットに移ってきてるので、日本語でよければ、世界中のどこからでも僕の漫画が読めるので、是非読んでほしい。僕の漫画の彼女のカレラも姫神ガジェットもウェブで公開しております、しかもフリー!
T-ONO: Thank you very much for your time, and we wish you success with your series. Maybe one day we can see an Iron Man comic!
お時間ありがとうございました、シリーズの成功を願っております。将来、麻宮さんのアイアンマンの漫画が見れるといいですね!
Asamiya: *laughs* Thank you. I'm impressed with all the research you did on my current Japanese projects.
彼女のカレラとか知っていて驚きました、ダークエンジェルとかもっとメジャーなものを聞いてくると思っていました。(笑)
Special thanks to Nikolas Kamachi for interpreting. Transcription by Arthur Arends and Stephen Bajza. Interview by Theodore Mak.
Related items