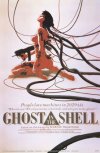 The original
Ghost in the Shell
is getting remastered, and not only that, a limited re-release in five (count 'em,
5
) Japanese theaters on July 12. The newly enhanced Mamoru Oshii cyberpunk masterpiece, titled
Ghost in the Shell 2.0
, will be revamped with CG and a new soundtrack overseen by Skywalker Sound. In addition, most of the original voice cast will return to reprise their roles in a new 6.1 surround sound recording. Yoshiko Sakakibara (
Ghost in the Shell 2: Innocence
) will play the Puppet Master, a character voiced by Iemasu Kayumi (
RahXephon
) in the original film.
A promo trailer
for GitS 2.0 can be found on the official Japanese website of Mamoru Oshii's newest film
The Sky Crawlers
, which itself opens on August 2nd.
I'm crossing my fingers for a Blu-Ray release of the enhanced GitS flick. Please?