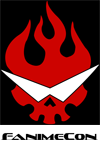 We have dug up new confirmed information in regards to Gainax's appearance. Tony, a FanimeCon Forum Administrator and MusicFest Head, said,
"Ok, I'm told we have some really interesting guests coming from GAINAX, and a lot of them, but they themselves have requested not to publicize the details. They should be in the program guide. In any case, we're planning a lot of events with them, so there will be ample opportunity to get your GAINAX fix..."

Marie, Assistant Director of Marketing for FanimeCon
responded
to Tony's comment,
"Think of it as a gift. You don't know what it's going to be, but when you open it, you know it's going to be awesome! And you're not the only one who's going to be surprised. Not even staff knows who exactly is going to show up. So let's be surprised together!"
You can find our previous post on this subject
here
.