Brazil Wins World Cosplay Summit
Written by Theodore Mak
Parent Category: News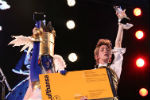 World Cosplay Summit 2011: Brazilian Brother & Sister Pair Take Home 2nd Championship
August 7, 2011 (Sun), the eagerly anticipated World Cosplay Championship kicks off with a monstrous audience of 17,000. This year's championship hosted cosplayers from 17 countries, setting a new record for the number of countries represented.
In a showdown of well-choreographed performances and mesmerizing costumes, the brother and sister pair representing Brazil emerged as 2011 World Cosplay Champions. What's amazing is this brother & sister pair was crowned the champions in the 2006 World Cosplay Championship! Adding another championship won in 2008 by a different team of cosplayers, this brings the tally of total championships won by Brazil to an astounding three.
Results

●Cyperous Award(Awarded to the team with the best wig)
The Netherlands
☆Prize:An assortment of 10 different colored wigs presented by Cyperous Co., Ltd CEO Hiroshi
Tomoto.

●Brother Award (Awarded to the team with the best costume)
Australia
☆Prize:"Family Marker FM100" presented by Brother Industries Koichi Yasui.

●3rd Place(Tokai Walker Award)※Awarded to the team with 3rd highest total points.
China
☆Prize:An assortment of Nagoya delicacies, a ticket to a leisurely facility in Nagoya, etc. presented
by Tokai Walker Editor in Chief Masaaki Nagase.

●2nd Place (Bushiroad Award)※Awarded to the team with 2nd highest total points.
Italy
☆Prize:A complete set of trading cards presented by Bishiroad CEO Takaaki Kidani.

●Grand Champions
Brazil
The champion' s trophy and two round-trip tickets between Japan and Brazil presented by Chief Judge Toru
Furuya. In addition to this, the Brazilian team (who scored the highest number of total points) was awarded
the Minister of Foreign Affairs Award presented by Naoki Murata of the Ministry of Foreign Affiars Public
Diplomacy Department.

※Comments from this year's Champions
Mônica Somenzari: I am so happy. This is the second time we've been crowned champions. I'd like to
thank everyone who supported us in getting this far.

Maurício Somenzari: I'd just like to express my gratitude to everyone who supported us, our Brazilian
friends who came to this event, and to our father who stuck with us even in tough times.

The Brazilian fans in the audience roar in celebration.