DD Yoko and Nia Preorder Open (Updated)
Published in
Written by Administrator
Parent Category: News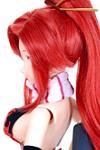 VOLKS USA has their preorder up for either Dollfie we reported about previously until Sunday April 19 at 11:00 AM PST. Interested buyers can also order from VOLKS' international site, the deadline for preorder there is Monday April 20 at 4:00 AM PST. VOLKS USA will deliver the Dollfies around the end of September while the international site will deliver around mid July. Nia will also feature a limited edition clothing set including a short haired wig, a hoodie, socks, and shoes. Do note that the doll modeling the set is most likely not the DD Nia.
Interestingly, VOLKS still has not released full finalized pictures of either Dollfies even with the deadlines approaching fast. A few pictures have surfaced on VOLKS' blog and on Gainax's blog which we have included inside. Will update when more pictures are out.
UPDATE: Finalized pictures have been released.