[COSPA] Fate Testarossa Movie Version
Published in
Written by Benjamin Chu
Parent Category: News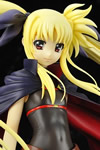 So in-line with Alter's recent release of their 1/7 Fate Testarossa Movie Version PVC Figure, COSPA was quick to also put out their own version.  Though less advertised, COSPA's version is definitely something you do not want to miss.  This figure by COSPA has it's advantages over the Alter release, as the entire figure is not suspended in the air.  Though lacking in the awesome pose, Fate's cape is still something to behold.  The facial expression is a lot more serene as Fate is captured in a non-action scene.
[Alter] 1/7 Fate Testarossa Movie Version
Published in
Written by Theodore Mak
Parent Category: News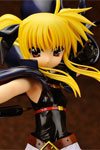 Seen previously as an unpainted prototype, Alter will finally be releasing the theatrical figure version of Fate Testarossa. The figure appears to come with 2 separate weapons and a possibility of interchangeable arms for different poses. Alter is no stranger to figures from the Nanoha series having released a ton of them. The figure is skillfully sculpted from the attention to the physical details of the cape and hair, to the baby fat in Fate's arm. Unfortunately as a consistent complaint I have had with Alter figures are the plain bases. Hopefully the finalized product will break the mold. Fate will be released in late November with an estimated wallet sinking retail price of 12,390 yen. Pictures included inside.
[GSC] Nendoroid Petit Angel Beats! Set 01
Published in
Written by Benjamin Chu
Parent Category: News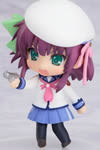 Angel Beats! has seen it's fair share of Nendoroid Petit figures showing up in various magazines.  The August 2010 issue of Dengeki G's magazine comes with a Nendoroid Petit Tenshi figure.  The G's Festival Deluxe Vol. 06 magazine (Angel Beats! Edition) came with a Yuri Nendoroid Petit figure.  But now, finally and officially, Good Smile Company has opened reservations for their first Nendoroid Petit Angel Beats! Set.  This is the first set of possibly three total.  This set features Yuri, Shiina and Yusa.  An odd choice for combination, but none-the-less, still very cute.
[GSC] Nendoroid K-ON! Yui and Tsumugi: Live Stage Set
Published in
Written by Benjamin Chu
Parent Category: News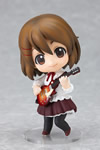 With Wonder Festival Summer 2010 creeping around the corner, companies could not but help leak some of the goodies that will be available for order or pre-order.
Last Wonder Festival we saw two Nendroids; Mio and Ritsu, both in their Live Stage outfits.  With the second season anime just as popular as ever, K-ON! is getting more Nendoroid treatment, this time featuring both the guitarist "Yui Hirasawa" and the keyboardist "Tsumugi Kotobuki" wearing the costumes they wore at Sakura High's Festival.
Both figures come with two different expressions as well as their respective instruments, and Yui even comes with castanets to recreate the ever-popular "Untan ♪" scene! The set also comes with a di:stage for them to perform on till their heart's are content!
Read more: [GSC] Nendoroid K-ON! Yui and Tsumugi: Live Stage Set
Preview Nendoroid Saber Full Action
Published in
Written by Benjamin Chu
Parent Category: News
Mika-tan from GSC has taken the liberty to post up preview pictures of the up-and-coming Saber Full Action Nendoroid.  Many of you might remember the Saber Lily -Distant Avalon- figure GSC produced back in September of 2009.  This Nendoroid will be based off of that figure, full and complete with Nendo-sized shield and sword.  Posable just like the original Saber, this Nendoroid is guaranteed to be a hit amongst Fate/Stay Night or Saber fans.  This figure is not yet released and not yet available for pre-order.  Pre-order date is scheduled to be June 22nd, 2010, so check your local retailers then!
Pictures after the break!