World Cosplay Summit 2008 Japan
Written by Theodore Mak
Parent Category: News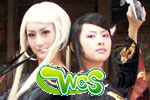 The World Cosplay Summit ended a few days ago in Japan with 13 countries competing.
For those unfamiliar with the event, the World Cosplay Summit began in 2003 as an invitational event to promote the Japanese pop culture internationally.Beginning in 2005, each country holds a preliminary competition to select their representatives to compete in Japan.
Brazil took home first place this year with China as the runner up. Japan's Osaka team had an impressive yaoi skit so fan girls may want to take heed. Korea chose to have 2 male representatives 
You can watch the videos and view more pictures at their site here . Bewarned that for some reason they chose not to record the audio for the performances; instead, they added their own track.
We have included some other videos with the original audio inside.