Trailer for Vocaloid Game "Project Mirai" at TGS 2011
Written by Bryan Yang
Parent Category: News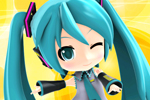 At Tokyo Game Show this year, SEGA announced the latest entry into the series of Vocaloid games for handheld systems with "Project Mirai" on the 3DS. The trailer is now available on YouTube, and the game website lists a release date of March 2012. The trailer shows off many new gameplay features that make it different from the "Project Diva" games on the PSP.
As expected, the 3D display is used to make the music videos have 3D depth, using both 2D sprites and 3D models in the Nendoroid style (by GoodSmile Company). In addition, the trailer hints at a "composition mode" which appears to use a simplified version of the Vocaloid 2 software to input the song. Another new feature in the trailer is the use of 3DS' AR (augmented reality) tech to have Miku appear in the real environment, and in 3D!
Although significantly different from the "Project Diva" series, this will definitely be another exciting Vocaloid game for portable systems. Unfortunately, since 3DS games are now region-locked, you'll need to get your hands on a Japanese 3DS to play this one in the states.
The trailer is embedded after the break.
Project Mirai homepage: http://miku.sega.jp/mirai/
Project Diva YouTube channel: http://www.youtube.com/user/pjdsega