Black Rock Shooter PSP Game USA/EU Licensed
Written by Theodore Mak
Parent Category: News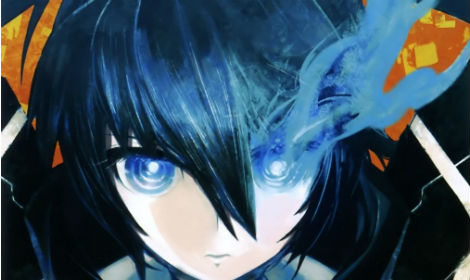 We had speculated the high likelihood that NIS America would release the game back in November 2010 when the company had announced they had secured the rights publish games by Imageepoch, developer for various games, most notably, the Black Rock Shooter PSP game. It was later revealed in an interview Dengeki Online held with Imageepoch, NIS America would be localizing the game in the future. NIS America officially announced last night they will be releasing the game in the States and in Europe.
Fans of the franchise is probably wondering about bundled goodies with a premium editions. Judging from NIS America's past history, we can definitely expect to see a limited or collector's edition for the game; however, it is unlikely that the localized version will contain the White Rock Shooter Figma figurine found in the Japanese White Premium Box due to costs and the exclusiveness of the original figurine. The original Petit Nendoroid figurine of Fuka made by Good Smile Company found in the Japanese Limited Edition version of Disgaea 4 unfortunately was replaced with a figure of Fuka made by Shishikuiya in the localized Premium Edition.
NIS America also started publishing anime in 2010, and as the Black Rock Shooter OVA has not been officially licensed overseas yet, it would not be out of the question for NIS America to do a bundle or even include the OVA in a collector's edition version.
Lots of speculation and unfortunately, there are no additional details regarding the localization of the game as it was just announced. We'll keep you posted on any updates or details we may happen to overhear, but the one thing we are certain is that NIS America is definitely one company who's always aiming to please their fans and we can expect an amazing bundle with the game. Press release inside.
"Santa Ana, Calif. (August 24, 2011) – NIS America is excited to announce the license acquisition of the highly anticipated Japanese RPG title for PlayStation®Portable, Black Rock Shooter The Game, for North America and Europe. "We are delighted to announce Black Rock Shooter. This is a title that many fans have been waiting for and it definitely lives up to the hype. We have not finalized a release date yet, but we are working hard to get it out as soon as possible. Please look forward to this amazing game," says NIS America producer Jack Niida. It is finally available on PlayStation®Portable in Japan, and NIS America is extremely pleased to be able to bring this fan favorite to Western shores. Further release schedule information will be announced in the near future. Please look forward to the next announcement.

About Black Rock Shooter The Game
Black Rock Shooter The Game has been generating all kinds of buzz among fans for its appealing character designs from the renowned artist Huke, and later on given voice by the ever-popular Miku Hatsune. What began as a single character design has now evolved into a PlayStation®Portable title.

Story
2032 AD—Earth has been ruthlessly assaulted by extraterrestrials, and nineteen years of nonstop battle now threaten the very existence of humanity. The last hope for human survival is BRS, a heroine created solely to save planet Earth; she is the ultimate battle android. But when she is awakened to end the battle once and for all, there are only twelve human beings left on Earth…

*Black Rock Shooter The Game is a working title, and is not finalized for North American and European release."