[GSC] Nendoroid Sakura Shinguji & Koubu Set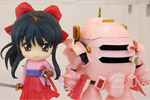 Anime fans from the 90s rejoice! Good Smile Company has put their best foot forward and made a return to anime from the good old days. Like a blast from the past, pre-orders for Nendoroid Sakura Shinguji from the popular series Sakura Taisen is open! Any serious anime fan from the 90s will remember this monumental Japanese franchise. From Visual Novels, to Dating Sims to Tactical Role-Playing Games, Sakura Taisen has done them all.
This special nendoroid of Sakura Shinguji was created to commemorate the 15th Anniversary of the Sakura Wars franchise! It's good to know Good Smile Company has their roots in line!
This nendoroid package includes Sakura herself and her trusty mech Koubu, sold together in a set! Sakura herself is fairly detailed, everything from her wavy ponytail (which is pose-able) to the sakura blossoms on her traditional kimono. Sakura comes with a smiling face and an angry face, both are very cute! Accessories include her father's sword and the scabbard, so you can recreate the scene seen on the cover of the PS2 game.
However, the most impressive part of this package is Nendoroid Koubu. The arms and legs are fitted with Nendoroid joints, so the whole thing is also pose-able! The best part is that Sakura can even ride inside Koubu! Just open the top hatch and Sakura can slide inside (removing her bottom half of course). Funny as that is, that means other Nendoroid characters with compatible hip connections will ALSO be able to fit inside Koubu!
Pictures of this awesome combination are below.
Pre-orders for Nendoroid Sakura Shinguji & Koubu can be found at your local online retailers. Retail price has her set at 4,286 yen, but you should be able to find her for cheaper in many places.