[GSC] Nendoroid Kuroyukihime
Written by Benjamin Chu
Parent Category: News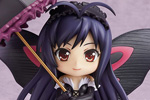 I am a sucker for cute things. Even worse off I am also a sucker for Accel World goodies, so as soon as Good Smile Company released their version of Nendoroid Kuroyukihime. I was INSTANTLY sold.
Just look at dress! How elaborate and detailed it is! It has everything from the butterflies climbing up the dress, to the the folds on the fabric. Even the umbrella is embellished a little.
More info and photos inside.

Best part about this Nendorid package is that it comes with a little Nendoroid version of Haruyuki's pig avatar. Lucky for us, Kuroyukihime also comes with multiple faces and pose styles. With this you can re-create plenty of scenes from the anime!
The release of this nendoroid will mark as the #249th Nendoroid they've created. It is available for pre-orders now from your local online retailers for a price of 3,800 yen.
Get yours now, before she sells out!