[GSC] Katsura Hinagiku Nendoroid
Written by Benjamin Chu
Parent Category: News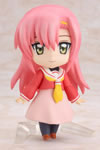 At number 125, Good Smile Company has released the Katsura Hinagiku Nendoroid! From the popular series, Hayate no Gotoku!, Hinagiku quickly stole the spot light from Nagi. Being the first Nendoroid of the anime series to reach retail shelves, Hinagiku will be the favorite for a long time.
As the student council president, Katsura Hinagiku comes with a variety of facial expressions; from her normal face, to embarrassment, to anger. Also included are her favorite beloved wooden/bamboo swords and an optional nekomimi headpiece.
This figure is up for pre-order right now at your local online retailers for about ~3,600 yen.
More pictures below...