[GSC] 1/8 Shinobu (Bakemonogatari)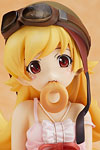 Figure maker Good Smile Company released the complete colored photos of Shinobu Oshino from the hit series Bakemonogatari earlier this week. Based on the cover art for the 6th volume of the Blu Ray release, Shinobu cutely sits on top of the rest of the cast from the series buried in donuts. In a rare twist, I have to say I think the figure is better than the original art, especially the face! What do you guys think?
She will retail for 7800 yen and be released next year in March 2012 and most likely will be on my preorder list.