[Alter] Selvaria Bles Swim Wear Figure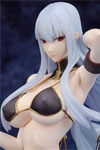 Alter unveiled a full colored prototype of the voluptuous Selvaria Bles from the hit video game and anime series, Valkyria Chronicles earlier last week at the Autumn MegaHobby Expo. The figure was originally unveiled earlier this year at the Winter Wonder Festival as an unpainted prototype. Fans will be please to know Raita Honjou (the original character designer for the series) designed the figure, while Toshiyuki Yagyu did an excellent job in adhering to Raita's voluptuous style with the sculpt.
Long term readers will be aware my past rants on Alter's plain display bases, but this one is simply amazing! I am a little concerned how her hair will look in the final product as it appears her hair may be semitranslucent.
You can take Selvaria home later next year in April for roughly 8,800 yen. For now, check out all the gorgeous photos we've gathered online.