Girl Idols Berryz Kobo @ Sakura-Con 2011
Written by Administrator
Parent Category: News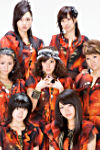 "All girl super group Berryz Kobo originally hails from Hello! Project and consists of Saki Shimizu, Momoko Tsugunaga, Chinami Tokunaga, Maasa Sudo, Miyabi Natsuyaki, Yurina Kumai and Risako Sugaya. With 7 Albums and 24 singles to their credit, Berryz Kobo's first North American appearance is a dream come true for many fans.

Berryz Kobo had their debut single, "Anata nashi dewa ikite ikenai" on Girls Day (March 3rd) in 2004, and have been consistently impressing fans ever since. There are many highlights to their 6+ year history, including their 2005 Oricon top 10 hit "Special Generation". In 2007, Berryz Kobo gave sold out performances in the Saitama Super Arena (20,000 seats), becoming the youngest band to perform in this arena with an average age below 14 years. One year later, they won the Best Newcomer Award at the Asia song Festival in South Korea and then the Nihon Yuusen Taishou Award for their cover song of "Dschinghis Khan". In March 2010, Berryz Kobo was the first all girl Japanese group to perform in Bangkok Thailand. Their latest single "Shining Power", released on November 10th is an ending theme for the anime "Inazuma Eleven". Berryz Kobo are excited to perform in the USA for their international fans!

Berryz Kobo appear courtesy of Up Front Agency and Japanfiles.com"
[Source: Sakura-Con via JapanFiles Newsletter]