Danny Choo @ Anime Expo 2010
Written by Theodore Mak
Parent Category: News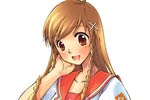 Reliable sources had told us Anime Expo was negotiating with famed otaku blogger Danny Choo a couple months back. On Thursday, Choo has confirmed on his Facebook page that he will be attending:
"Tonight I'll be sending in my confirmation to attend AX. アメリカの大型アニメイベントANIME EXPOで講演します。"
Choo runs the popular otaku blog site dannychoo.com which started originally as a figure and hobby blog site. Over time, the site's exponential growth lead to worldwide media attention allow Choo to start his own business based on the site, Mirai Inc. Anime Expo is the largest anime convention in the United States roughly bringing in over 40,000 fans worldwide.
Stay tuned as we bring you more news and coverage and we are in the process of interview arrangements!