First Official Trailer for Little Busters! Revealed
Written by Benjamin Chu
Parent Category: News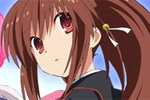 A preview trailer for the new and upcoming Little Busters! anime has finally been revealed. I for one was personally skeptical when I heard that the production company for the anime was J.C. Staff. I really hope J.C. Staff can deliver a quality series that isn't easily forgotten. The trailer isn't too bad so hopefully this is a good sign to a solid production. They are attempting to fill the very large shoes that Kyoto Animation left in their wake.
The anime will premiere in October 2012.
Watch the trailer after the jump!